4 pro tips for your next highland road hunt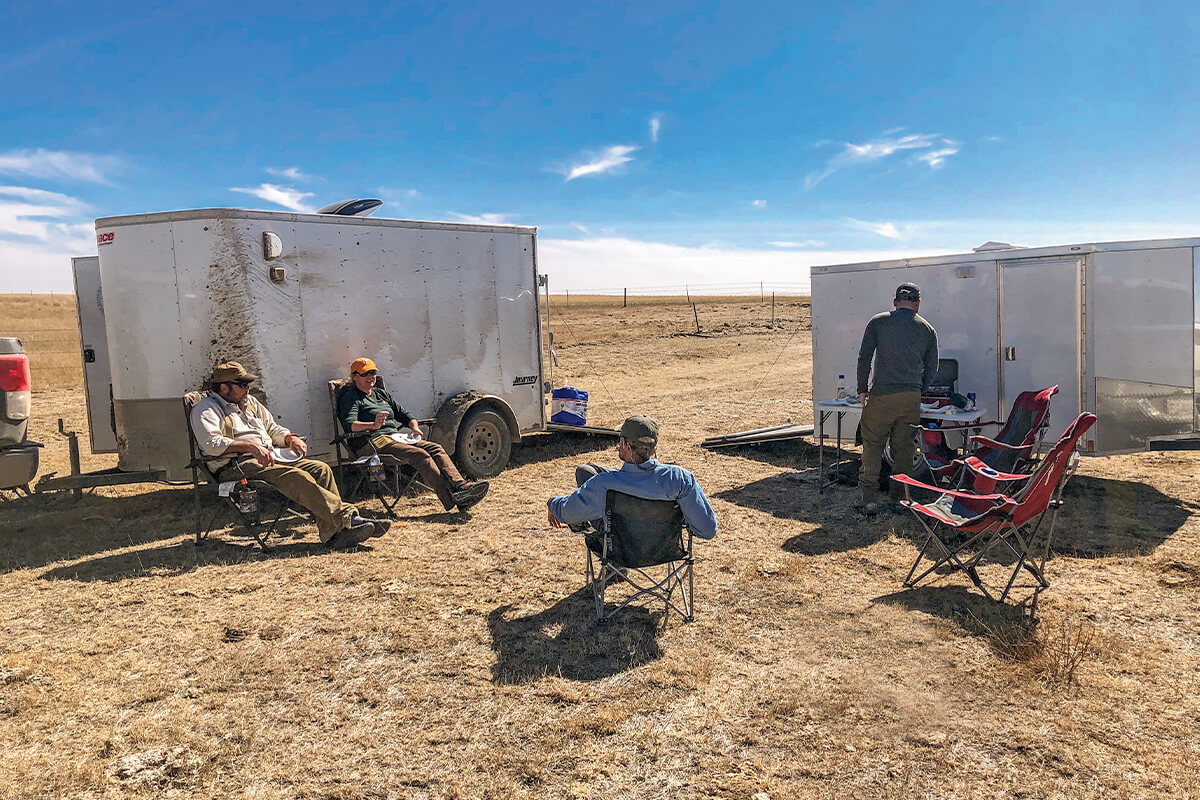 Success and failure both have lessons to teach, and every journey is filled with them if you pay attention. (Photo by: Ben Brettingen)
There is an undeniable appeal to heading west for bird hunting, in my case Montana. Most people head west for a summer vacation or a winter ski trip to the mountains. However, it was the miles of what many would consider nothingness that captivated me. Every time the tailgate lowers and the dogs hit the ground, I can't help but think about how countless dogmen have made their way to the sacred meadows to lead veterans and new puppies over birds. wild.
Hailing from Minnesota, there are plenty of fantastic bird countries along Montana's 14 hour drive. However, it is almost unfair to compare the millions of acres of sprawling hills with so many places along the road. For 2020, the goal was to think outside the box and explore areas never hunted, and that's how I ended two days on a week-long trip with no birds in hand.
Online Scouting has never been easier, and I have had great success finding prime land by finding public land with nice cover. With 90 percent accuracy, I could hop onto the onX Hunt app, find a piece of land that looked like a bird, and confidently walk away, I would find roosters. I walked through Montana with the same confidence, although we were on the hunt for Hungarian Partridge, Sage Grouse, and Sharp-tailed Grouse, all of which I have had much less experience with.
"How difficult could that be? I reasoned with myself. If we couldn't find any bombers, then the Sharpies and Huns would be a big consolation prize. To turn up the heat, I invited a handful of my southern friends to take the walk from Arkansas, Alabama and North Carolina. If you hunt or fish, you know the feeling of being responsible for the success of a trip. Although you can always fall back on "that's why they call it the hunt" or "it's good to spend time in the field" – I hate those excuses. At the end of the day, I felt responsible for finding birds and making them a good hunt. I have been lucky enough to hunt with them on a number of occasions, and they are a great group who love to find birds but understand how it can be.
Here are four hard-learned lessons that just might help you the next time you point your needle down the open road.
Lesson 1: Choose your partners wisely
Nothing can ruin a trip faster than having bad hunting partners. They might be the nicest, humblest people in the world when you dine on the deck, but that all changes when you're stuck together for a week. Make sure everyone has the same expectations on multiple fronts because nothing can ruin a hunt or a friendship faster.
Day one greeted us with a 40 degree September morning, and you couldn't have asked for a better start to the trip. As we moved out of the river valley the anticipation of dogs on point and birds climbing out of the blanket also increased. What I thought was a boulder management area that sported a perfect patchwork of sage bushes and shortgrass prairie, was more of a barren wasteland. Overgrazed and seemingly devoid of anything but cow pies, I ignored that. "It's okay. I just intended to spend the next two days hunting here. It turned out that my 'A' spot wasn't even worth getting out of the truck to hunt.
At the end of the day, I felt pretty shocked. Nothing far resembled aerial imagery, and to top it off, we didn't see a sage grouse, pointy tail, or Hun. I was not going to give up, we would have to wait until the second day.
A new road-killed sage grouse was an indication that at some point in recent days there was something here. That's all I needed. "Here we go, we're back in the money," I thought as a grassy plateau rose from the plains. From the road, through binoculars, you could not have dreamed of a better habitat. It looked better and better, as we walked through some stunning sage habitat, continuing towards the hillside and the sharp tail habitat: small drains dotted with plum thickets and grass up to the knees. It went on for miles, but I didn't think we had to cover a fraction of it before coming back down in heavy vests. It was not, as we have walked every mile of this temptress. On each climb, I expected to see a dog standing still, eyes intensely focused on a potential flock of birds.
Two full days of grinding, without a single bird touch to show it. Let's scratch all the BS 2020, thinking outside the box, memories of dogmen from a bygone era, ra-ra, mantra. New mantra: Find birds to hunt.
Lesson two: get out of it!
If the trip was difficult, if you missed a bird, or if your dog is playing with his own, take a deep breath and let him go. Put on a smile, shake it off and make the trip enjoyable. If you need to, sit down, drink some water, and calm down. Personally, I hold myself to a high standard. When the going gets tough, for the good of your party and your dog, don't.
It sounds simple enough, and when you're not on it, it's time to go! This is exactly what awaits us in the wee hours of the morning as we pursue the long white line to a whole new area. With my stunning e-Scouting display in the last place, I was overflowing with doubt. Miles and miles of dusty roads eventually resulted in an audience that looked really good. I couldn't help but let hope return. It was 10 a.m. and the warm temperatures in September gave us no more than two hours to run around the German thick-haired dogs.
We parted ways to cover the section, and as soon as I fell behind a hill, a telltale report of a shotgun echoed across the meadow. Knowing that my counterparts would shoot a hare just as well for the young Drahthaars, I wasn't sure what was on the reception of the shot.
Then out of the corner of my eye, I saw a dog, which could have won a reigning horse show, raising a cloud of dust when he hit the brakes. When the telltale laugh of a flock of sharpies began, it was game as two birds fell back into the meadow, much to the delight of my two dogs. Officially irrelevant and life is good!
As we deepened into the blanket, the shrubs of white cherry and snowberry increased in density, as did the birds. Hopping from patch to patch, the sharpies held their end of the bargain, bursting into singles, couples and coveys. As noon approached, the thermometer soared into the low 80s and we lay down in the shade of a thicket, grateful for the morning change of pace. We tried to get back to the truck, at a leisurely pace for the dogs, but flocks of birds continued to hamper us. Not a bad way to end the day. I could see their smiles from hundreds of yards away as the other members of our group had the same success. The remainder of the afternoon was set aside for a meal on the prairie and occasionally for the dogs to regroup for the next morning's hunt. It's too funny how quickly the tides can change, and attitudes can go from gloomy and tired to happy and excited in no time at all.
Lesson 3: Climb to the heights
It's just as important to revel in the good times as it is to let go of the bad times. We're so busy leaving, whether it's to get to the next place or to shoot another bird, you forget to sit down and enjoy it. Pro tip: Sharing your drink of choice with good friends after a hunt is often the best way to achieve this.
Our attitude had changed and by 5:15 am everyone was sitting in the parking lot, shredded as they could be, waiting for what we were hoping to be another bubbly of the morning. There were a number of properties that looked like our area from day one, and we parted ways to expand our repertoire. Early in the morning, when the sun was low and temperatures were still reasonable, we found more birds in the short grass, compared to the bushier cover as the day wore on. Grasshoppers were the food of choice and targeting the short grassy areas around the woody cover proved to be a very effective technique. Bingo! As the day wore on we followed the birds under cover, and it lasted all morning. One of the biggest keys to success was being able to connect the dots between what the aerial imagery was showing you knowing exactly what it looked like on the ground. From there, I scanned the maps and found more similar properties. This opened up enough area to hunt for days in a row so we didn't remove too many birds from each covey and educate them for later in the season.
Lesson Four: Don't Get Caught
When the weather is good and the birds are plentiful, it's easy to overlook the little details. Far too often I hear of other hunters taking a trip and hunting a piece or two over and over again for days on end. Choosing things like the type, thickness and height of vegetation or whether there are any insects present can make a significant difference when trying to find similar patterns.
At the end of the trip, we stocked up on birds, and had a good time. As we sat in the meadow having our last meal of bacon-wrapped sharpie, the conversation turned to the plan for the year ahead. With a resounding yes, it looks like we're going to meet again under the big Montana skies.