Bill Vance: Scout II, an early example of a sport utility vehicle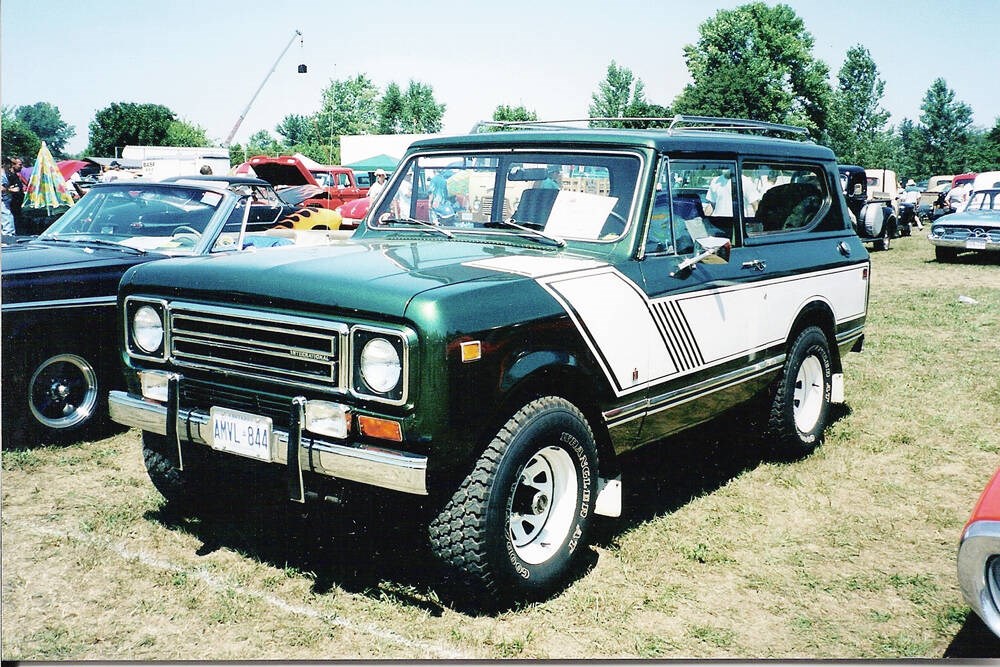 The Scout II was discontinued in 1980 after more than 530,000 Scouts were built
The roots of the International Harvester Co. date back to the invention of the combine harvester by Cyrus Hall McCormick of Virginia in 1831. As consolidation began to take place in the industry, McCormick Harvester partnered with d ' other companies implemented in 1902 to form the International Harvester Co.
Although known primarily for heavy trucks and agricultural machinery, IHC has manufactured a few passenger vehicles. From 1907 to 1911 it built both high wheeled Auto Buggie types and conventional passenger cars. It even occasionally made cars on truck frames until the 1930s, and produced "woody" station wagons from 1930s to 1950s trucks. This was followed by a large all-steel Travelall station wagon similar to the Chevrolet / GMC Suburban.
In the late 1950s, IHC observed the growing demand for general-purpose utility vehicles from the industrial and agricultural sectors in the off-road recreation market.
The sport utility vehicle was created and popularized by Willys-Overland when it marketed a civilian version of its military Jeep after World War II. IHC recognized the trend quite early on when the main players were just the American Jeep, the British Land Rover and the Japanese Toyota Land Cruiser.
In 1961, International Harvester introduced their Scout sport utility vehicle, a rugged two / four-wheeler driver that would quickly become the best-selling product in IHC history. It was bigger, more refined and more powerful than the traditional little Jeep CJ-5. Its 2540mm (100in) wheelbase was 483mm (19in) longer than the 2,057mm (81in) of the CJ-5, roughly the same size as the 2,565mm (101in) of the bigger Jeep CJ6.
The Scout's 2.5-liter "Comanche" angled four-overhead valve engine was created by cutting off the right bank of their 5.0-liter truck V-8. It developed 93 horsepower, significantly more than the CJ's 75-horsepower 2.2-liter F-head four. Two-wheel drive was standard with four-wheel drive and an optional limited-slip differential.
The Scout's styling resembled a small pickup truck with an integrated cabin and cargo box. There was a single bench seat and the roof and doors could be removed and the windshield folded forward for a sporty feel. To keep cargo dry, an optional roof can be ordered for the collection tray.
The Scout's performance was reasonable. Car life (6/61) recorded zero to 60 mph (97 km / h) in 20.1 seconds, and the top speed estimated at 80 mph (129 km / h). But there have been some criticisms. The testers noted that the removable steel top leaked "like a sieve". In addition, the sturdy clutch and rigid ground shifter of the three-speed transmission made it a "real man's car".
Self-winding windows appeared in 1963 and in 1965 the 2.5 engine was made available with turbocharging increasing horsepower from 93 to 111. A four-speed transmission became optional. Then, for 1966, a larger 3.2-liter four-cylinder (a 6.4-liter half-V-8) and a 4.4-liter overhead-valve V-8 were offered.
Creature comfort was also improved along the way with a smarter interior and improved sound insulation to beat the competition from the new 1966 Ford Bronco and the upcoming 1969 Chevrolet Blazer and 1970 GMC Jimmy.
Another power boost came in 1969 by increasing the displacement of the V-8 to 5.0 liters. It also received upgrades such as two-tone metallic paint, chrome wheels, wider tires and a carpeted and padded interior.
Recognizing that the time had come for a new model, IHC introduced the all-new 1971 Scout II, wider and lower; the old boy scout rode it for a year. Although the same 2540 mm (100 in.) Wheelbase was used, increased passenger space was found in one way or another.
The Scout II offered a wide choice of power teams. In addition to the standard 3.2-liter four, there was an optional turbo four, American Motors 3.8-liter inline-six, and 5.0 and 5.7-liter V8s. Three- or four-speed manuals and an automatic transmission were available along with amenities such as power steering, power brakes, and air conditioning.
By 1975, IHC had ditched the large Travelall and pickup, but kept the Scout II which survived the 1970s without major changes, although it did get several variations of scratches and stickers.
As a replacement for the Travelall, a 2997 mm (118 inch) extended wheelbase Scout II called Traveler was introduced in 1976. A Scout pickup, the Terra, was also fitted to this wheelbase, and a Nissan 3 diesel engine. Optional, 2 liter was available.
The Scout II was discontinued in 1980 after more than 530,000 Scouts were built. Although a new model was designed, it was not put on the market. Given the explosion in SUV sales that would follow, IHC might have wished to stay with the company.
IHC was in financial difficulty and in 1985 would sell its farm equipment division to JI Case Co. of Tenneco. International heavy trucks continued to be manufactured by a reorganized company called Navistar International Corp.