Catch an explosion of color on a road trip to the Nantucket Daffodil Festival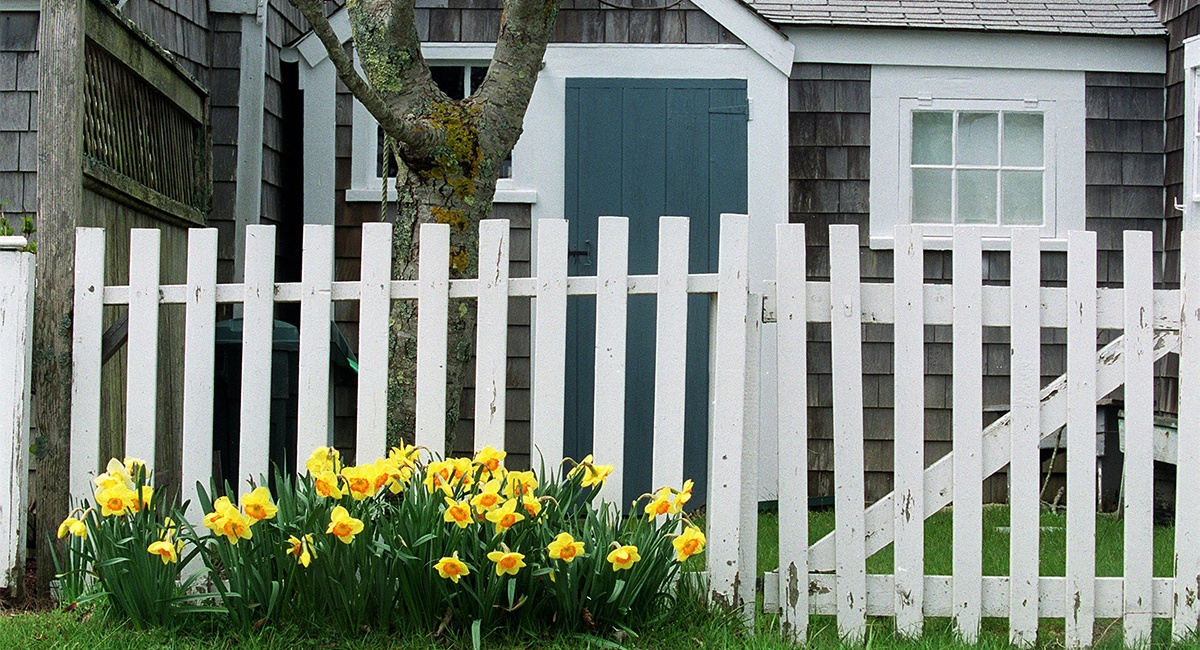 Beat the crowds by visiting the iconic vacation spot in April.
Blooming spring flowers are the ultimate release from New England's winter misery, but few communities lean into this seasonal awakening quite like Nantucket. Beginning in early April, millions of yellow daffodils transform the island into a painted landscape worthy of Monet, and for nearly half a century, the Nantucket Daffodil Festival (April 22-24) has brought islanders together and visitors to celebrate the arrival of spring. The streets of the island are generously decorated with freshly harvested daffodils while festival-goers enjoy floral parades, picnics and town parties. Now in its 46th year, after two festival cancellations due to the pandemic, the Nantucket Daffodil Festival returns in full thriving glory, and there's still time to make plans to experience this one-of-a-kind showcase of Cape ecology. Cod. Add a night in a seaside B&B, nourishing cuisine and extended detours through coastal gardens, and it's a road trip! Note: We have scheduled a Friday departure, but if you can get to Hyannis before 8:00 a.m. for a Saturday ferry, you can still enjoy most of the festivities.
BOSTON > NANTUCKET: 72 miles by car, 1.5 hours (plus 1-2 hour ferry ride)
The festivities kick off on a Friday night with the Flower Power Party at the Nantucket Whaling Museum (6-8:30 p.m.) where guests win prizes for best "flower" outfits while enjoying hearty hors d'oeuvres and exhibits of flowers next to the skeletons and harpoons of whales.
Nantucket ferries run by the Steamship Authority and Hy-Line Cruises depart several times a day (their last boats leaving Hyannis at 8:00 p.m. and 8:50 p.m. respectively) and you can make reservations for peace of mind. But leaving your car in Hyannis can also be a smart option, especially if you're up for exploring the tiny island on foot and by bike (bike rentals are available on the island at the Nantucket Bike Shop and Young's Bicycle Store.)
DOWNTOWN NANTUCKET: 1-3 miles by car, foot or bike
Wake up or drop off your luggage at your chosen Nantucket base camp. 21 Broad offers stylish urban digs and a lush outdoor patio with a fire pit, while the Cliff Lodge Bed & Breakfast pairs classic Yankee decor with freshly baked pastries each morning. Both joints are less than a mile from Center Street and Children's Beach, where the party kicks into high gear Saturday morning.
Try your hand at designing a dazzling floral headpiece at the 10 a.m. Daffodil Festival Hat Contest (hosted by the Children's Beach Bandstand.) Then, head to Center Street and find a good pick-up point. sight for the parade of vintage cars and motorcycles, which begins at noon and features vehicles richly draped in daffodils. Coupled with the yellowing buds of downtown trees, it's an explosion of springtime colors as jalopias and helicopters descend on the fishing village of Sconset for a picnic on the tailgate. But before you follow the festive masses, take a brief detour to Children's Beach for the Daffy Dog Parade (from 12:45 p.m.) during which leashed pooches decked out in flowery costumes cross the sand, playing good sports and earning their treats the afternoon.
EXPLORE NANTUCKET: 3-17 miles by car, foot or bike
Pick up a hearty lobster salad sandwich at Something Natural or a bowl of spicy ahi tuna at Island Kitchen and drive or cycle to 'Sconset for the tailgate picnic. Or leave the crowds behind and head out to the breezy, brackish expanse of Nantucket for an intimate afternoon rummaging through the island's forests, beaches, and salt marshes. 35 miles of cobwebbed cycle paths across the island, putting destinations such as Madaket Beach, Triple Eight Distillery and 'Sconset Bluff' boardwalk within easy reach. And while you'll spot bright daffodils in bloom across the island, Nantucket's finest curated showcase of the definitive spring flower descends inside the greenhouses of Bartlett's Farm, where the Nantucket Garden Club (the festival's founders ) will organize an ocean of daffodils under the theme of "Island Treasures".
Dinner reservations are a must this weekend — try Dune for farm-raised New American fare or Company of the Cauldron for fresh-caught seafood with a French twist. But leave room for a dreamy sunset stroll to Brant Point Lighthouse, which overlooks Nantucket's sheltered harbor (it should sport a wreath of daffodils, like other local landmarks.) Who knows? You might have secluded Brant Point Beach to yourself if you go there at dusk.
NANTUCKET > FALMOUTH > BOSTON: 100 miles by car, 2.5 hours (plus 1-2 hour ferry ride)
As you kick off the next morning with a macchiato at the Handlebar Cafe, consider avoiding the mass exodus from Nantucket by taking a midday ferry to Hyannis. You'll still have time to shop for flowers and homemade treats at the Daffodil Festival Bazaar on Main Street (10 a.m. to 2 p.m.), but leaving the island before late afternoon will make the return trip less hectic. And coming back to the mainland doesn't mean your floral weekend is over.
From Hyannis Harbor, drive 20 minutes west to the Lowell Holly Trustee Preserve and see another dimension of Cape Cod flora as you view rhododendrons, mountain laurels and American hollies from wandering trails . Continue southwest to Falmouth for another 25 minutes and lose yourself among 400 acres of gardens and conservation lands at Highfield Hall and Gardens, a restored Victorian estate once home to Boston Blue Bloods. And keep in mind that April isn't just the dawn of flower season along the Cape. In many places, it also marks the return of fried clam season. So grab a big order of crispy golden bites from Seafood Sam's, take your lunch to the quiet sands of Old Silver Beach and, as you snack, imagine the sunburnt hordes that will follow in your footsteps in June.
---