Conservative MP Leslyn Lewis discusses Canada's vision during a leadership road trip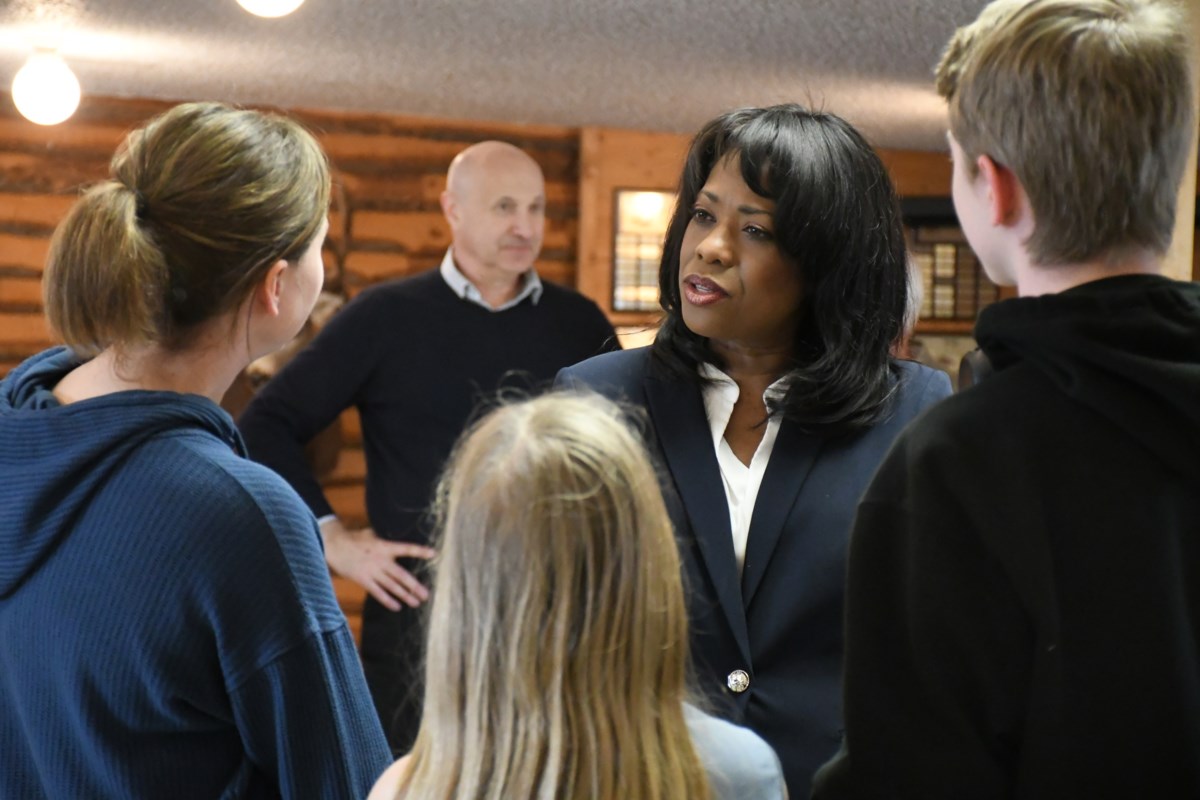 Lewis, the MPP for Haldimand-Norfolk in Ontario, held a rally at the Moose Jaw Wildlife Clubhouse on April 4 and addressed about 100 people of all ages.
Leslyn Lewis, who is running to become the next leader of the Conservative Party, brought her message of hope, unity and compassion to Moose Jaw as part of her tour of Western Canada.
Lewis, the MPP for Haldimand-Norfolk in Ontario, held a rally at the Moose Jaw Wildlife Clubhouse on April 4 and addressed about 100 people of all ages. She presented her vision for the country and then answered more than a dozen questions from the audience.
Some floor topics were on Globalism, The Great Reset, Universal Basic Income, Digital ID, Fighting Indoctrination in the School System, Leadership Race, Abortion and Euthanasia, carbon tax, democracy and electoral reform.
This is the second time that Lewis has pursued the position of leader of the Conservative Party. She finished third in the 2020 leadership contest, while Erin O'Toole won that contest.


Lewis is showing up again because the issues that were important to her two years ago are still present — and are even more magnified today, she explained. The cohesive fabric of the country is torn, the provinces threaten to leave Confederation and the debt reaches $1.1 trillion.
"We pay $300 million in interest a day on our loans. It is unacceptable. Think about the future of our children," she said. "We…have to do something about it."
Canada's social fabric is being divided over contentious issues as friends and family refuse to speak to each other, Lewis continued. She accused Prime Minister Justin Trudeau of using the pandemic to create fear and divide people instead of working to heal trauma.
Instead, she argued that policies are needed to unite the country.
"When I came forward as a leader, it was something I wanted to do. I wanted to be a unifier. I wanted to be a bridge builder," Lewis said.
There have been many recent opportunities to build bridges, such as with the convoy of truckers in Ottawa, she continued. She visited the participants and found it to be the most peaceful protest she had witnessed. However, many protesters tried to contact their MPs for help, but received none.
She also pointed out that all Trudeau needed to do was meet with them. Instead, he called them racists, misogynists and members of the fringe. This was not how, she thought, leaders should govern.
"A leader should be a leader for everyone, whether they voted for you or not, whether or not they believe what you believe in," Lewis said.
As a bridge builder, Lewis would support business owners who have struggled during the pandemic, support young people struggling to buy a home, and create policies to ensure parents can raise their children with desired morals and values. . She would also advocate for people of faith to ensure that the government cannot impose a values ​​test on them to receive grants.
There is a lot of alienation in Canada, especially in Western Canada, where people feel disrespected and a separation movement is underway, Lewis continued. The federal government has imposed policies "designed to cripple the West," particularly with anti-oil and gas bills.
These policies should be repealed as they favor foreign companies over local ones, she noted. Meanwhile, Canada needs to build pipelines so it can ship its produced oil and gas overseas in an ethical and sustainable way.
"Europe buys 40% of its oil from Russia and finances a Russian dictatorship. We have to get our products to market," Lewis said, "and I say we do that by building the pipelines. We can go all the way to Churchill, Manitoba, get our product to the tide and make sure we're enriching that country.
Lewis thought it was important to help people find hope after the past few years. She noted that many Canadians have lost trust in mainstream media and governments, so there is a need to rebuild trust. She also criticized the use of cancel culture to solve problems.
"I am not a career politician. I am someone who felt called… (to) give my life in the service of Canadians, in the reconstruction of this country," she added. "…I will dedicate my life to fighting for this country, cost it what it can."


Lewis will then travel to Alberta on his road trip to management.