Gavrilov: Battles were 'crazy' to win Norisring podium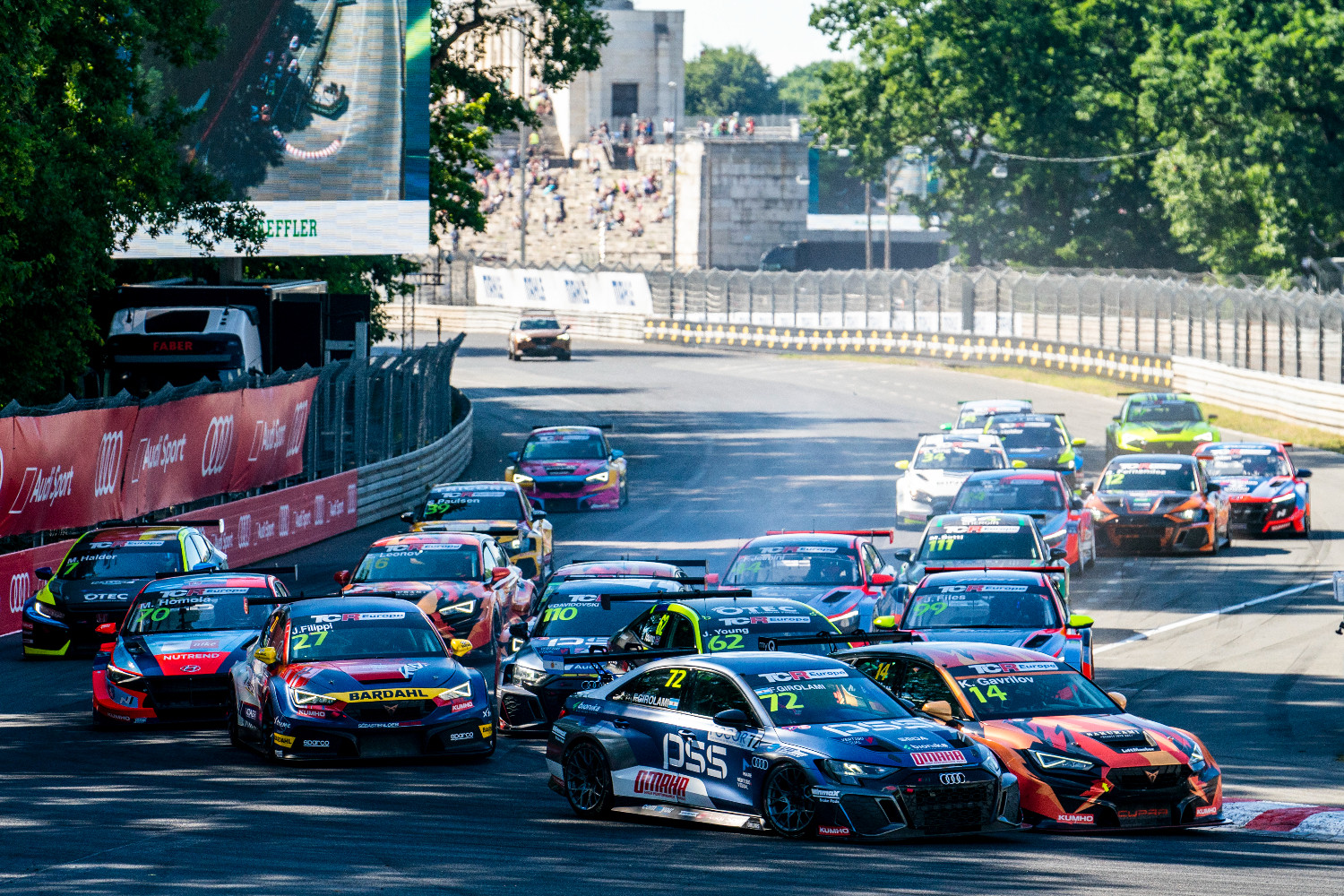 Klim Gavrilov claimed his second TCR Europe reverse grid racing podium of 2022 at Norisring in a race that was entertaining to watch, but the Volcano Motorsport driver found the action stressful.
"It was totally," laughed Gavrilov when TouringCarTimes told him that Sunday's encounter was a real touring race. "It was extremely tough.
"I think from the viewers and fans perspective it was 'oo, amazing fight' but from my perspective it was 'oh fuck, I'm so tired of this' because I had problems with the brakes, I couldn't brake as late as the Hyundai and Audi could, in the corners I was really good, but in the braking zones I struggled a bit.
It was notable that Gavrilov was harder on his front tires early in the race as he held off Franco Girolami, and once he conceded the lead to the Audi driver he then had a long line of cars wanting pass but was able to keep them all. hard-pressed for the duration of the race.
"We will try to solve this problem [brake] problem. It wasn't as bad as I say maybe, but it was bad. But from the video, I guess it's not that bad. We will try to solve it, but the battles were like crazy. "No way anyone will pass me!" [I thought]but Girolami, he was just too fast.
Girolami's second podium means he is fourth in the standings, just eight points behind second, and he was impressed with the pace his Cupra León Competitición provided him over the Norisring weekend.
"Actually, it was really good. I struggled a bit in qualifying, but other than that in the first race [12th place was like the best what I could do because Jack Young had some problems with the pace and in the first race I was just trying to overtake him but Norisring is not the place where you can really easily overtake somebody."
Remarkably Gavrilov's worst result of the season was a blessing in disguise as it put him on the reversed grid pole for the next race.
"I just got stuck in the first race behind Jack, and second race here I got a good start and then Girolami was just faster because he uses Audi and they have really good straightline speed because of the aerodynamics. So he could overtake, and almost nothing I could do with that."
Despite the strong results, Gavrilov was unsure if he wanted to return to the Norisring in 2023 when TouringCarTimes asked him.
"Dammit, I don't know," he said, pondering the question. "I like this track but, I don't know, when you're watching races on street circuit tracks and if the car has no DRS sometimes it's really boring.
"When we're watching World Touring Car Cup it's really like close [on street circuits], but there are not many overshoots. And that's what we saw here too. It's a really cool track, the battles are great, but it's really hard to pass. You almost wait for an error from your opponent, and that's how you overtake. Maybe just one street circuit in the calendar is really good, but going through all the street circuits isn't the best idea.
Gavrilov's teammate Isidro Callejas is one place and two points ahead of him in the standings and finished fifth in both Norisring races. After the second race he received a reprimand for his standards of conduct, having been involved in incidents with several drivers.
He was one of several drivers to be investigated by the stewards, but at the time of writing RC2 Junior Team's Rubén Fernández was the only driver to receive a penalty because it will be moored five places on the grid for the first race at the Nürburgring, which takes place on August 27.