Halloween bike ride unites the community | New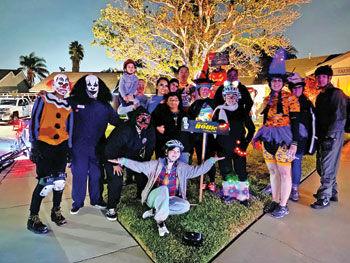 Janet Berg from Chino, who founded cycling group BOBie in 2011 with her husband Keith Berg, describes what it was like to get back on your bike and haunt neighborhoods with a caravan decorated with fellow cyclists on Saturday, October 30.
It was a fab hike after several years of hiatus as I had to deal with Keith's illness and recovery.
We started at Cypress Trails Park in Chino with about 16 people, a dog and an amazing macabre decorated car driven by Jennifer Mugan which I found on Chino Connects.
Jennifer decided to follow our bike parade all night.
Andi Culver and I organized and led this fun walking tour on a predetermined route of almost 20 homes that we had been looking for for over two weeks. We distributed phosphorescent strips to the participants.
Andi went the extra mile and created "Your house was selected for our Halloween Bike Parade" certificates to be delivered to every house on our list.
To our surprise, several houses had Halloween refreshments waiting for us when we arrived.
Some families had gone out with their neighbors to cheer us on as we drove through their streets, including a family with their newborn twins and neighbors!
Another surprise, some of these families decided to join us for our bike parade.
My favorite and most unexpected surprise was when we drove to Chino Halloween Town in Raintree Place (they always make a great Tim Burton theme) to find that they had created a welcome sign with our logo on it! (Look at the picture.)
Greg Taver and Rory Quirin created for the 11th consecutive year the exhibition "The Strange Christmas Before Christmas" with lighting and music. They took a lot of great photos of us.
Of course we had a grand finale which could not have been other than the Corner House on Manzanita Court at Avila Avenue. (Look at the picture.) The oohs and ahhs were loud. I have never had a participation as well received and appreciated as the return of this year's Chino Halloween Ride.
Much appreciation and gratitude to Andi, our new occasional hike manager for our club, for all of his foresight and effort in making this community hike a huge success.
What a great community event after such an isolated year from Covid-19.
Editor's Note: The BOBie Cycling Club also runs a "Christmas Lights Night Hike," which is a slow eight-kilometer holiday hike that passes through Chino's favorite Christmas Lights neighborhoods.
The Bergs described themselves as former professional couch potatoes who decided to get back in shape and found the BOBie Cycling Club, which stands for "Butts on Bikes Inland Empire".
The name was chosen because "that's what we do, we sit our butt on our bikes and ride for hours," Ms Berg said.
The group offers weekday, weekday, and weekend rides at many skill levels so everyone can have fun.
To find out more about the rides and the club, go to meetup.com and enter BOBie Cycling club in the search bar.