JOE MATHEWS: Highway trip brings back memories of a bygone era | Opinion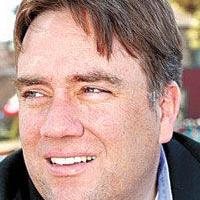 [ad_1]
Never complain about freeway traffic, especially around my mom.
"You're lucky you have freeways – when I was a kid we didn't have freeways," she would say when I complained on long drives to see her parents in Redlands.
"I grew up in Hawthorne," a working-class town near LAX, she reminded me, "and when we went to Redlands we had to take the Imperial Highway and other surface streets. She said the trip took three hours.
Mom is 75 now and her memory is poor. But I never forgot his story, and for years I wondered what such a trip would be like. So, with her encouragement – she's a retired newspaper editor – I decided to drive from Hawthorne to the Inland Empire town of Redlands without taking a freeway.
The reader would remind me how, when traveling in California, the weather can slow down even when it is going at full speed.
I start near the western end of the Imperial Highway in El Segundo, from the old North American Aviation factory site where Grandma Edith, my mother's mother, once worked on the assembly line . From El Segundo, the highway passes under Highway 105, which effectively replaced Imperial as an east-west artery when it opened in 1993.
Imperial Highway – actually a collection of county roads and national highways, complete with traffic lights – was designed a century ago by agricultural interests seeking to connect LA with farms in Imperial County, 220 miles away. of the.
But building infrastructure has never been easy in this state; construction of the highway began in 1931 but was not completed until 1961. By this time, the highway was replaced or subsumed by other highways and highways. Today, the Imperial Highway does not approach Imperial County; its eastern end is on the border of the cities of Anaheim and Orange.
Heading east from El Segundo on Imperial, I stop at the Hawthorne building occupying the land where my mother grew up. I also pass the Beach Boys monument, which my mother knew from Hawthorne High School. Then I head east through Inglewood in South LA
To drive the Imperial Highway today is to see Southern California as an unhealthy empire, at war with itself. There are more liquor stores, fast food stores, donut stores, and tobacco stores than I can count. Their sun-drenched marquees mingle with sparkling new health clinics and schools – public, chartered, private and religious. Will all of this health care and education save us before we eat and drink to death?
Much like the rest of California, there is too little new housing. Decaying houses along the Imperial are often hidden behind walls to block traffic noise. The two social housing projects I'm passing – Nickerson Gardens and Imperial Courts – are in better shape than the developments around them.
East of South LA, in Lynwood, I can't help but stop when I see the sign for Gary Beverly Court outside an empty Lynwood High School building. The high school has moved, but the road sign remains, in honor of a beloved principal who was shot and killed on his way home 20 years ago. I covered the matter, which is still unresolved.
With a multiple car crash blocking the Imperial ahead, I make a one mile detour south to Compton, which allows me to visit the graves of my great-grandparents. When I return to the road, I cross South Gate and enter Downey, where a sign directs me to a museum commemorating the Space Shuttle Columbia, which my grandmother helped put together.
Traffic is slow in Norwalk, with county government buildings and churches, and fast in Santa Fe Springs and La Mirada, the last two LA County towns crossed by Imperial.
Forty-one miles later, when I cross Orange County in La Habra, Imperial looks more prosperous. There are a few offices of tech companies, as well as high-end retailers, gyms and yoga studios full of pretty people, and an Amazon Fresh. I walk through Brea a bit to Yorba Linda and see some horseback riding trails, as well as signs for the Nixon Library, dedicated to the only president born in California, a Whittier child who eerily embodied the promise and paranoia of his state. origin. .
My total driving time, not counting stops, reached two hours. And Imperial Highway would only get me halfway through Redlands, in the northeast corner of the LA Basin which is part of San Bernardino County.
So, I turn north and drive through Brea Canyon on a dusty, crowded road parallel to the 57 Freeway. Without a map, I drive in search of the baseline, where I will turn east. This is the other road my mom used to talk about those trips a long time ago.
The second part of this column appears next week. Joe Mathews writes the Connecting California column for Zócalo Public Square.
[ad_2]