Josh Files Reveals Annoying Electric Gremlins Over Paul Ricard Weekend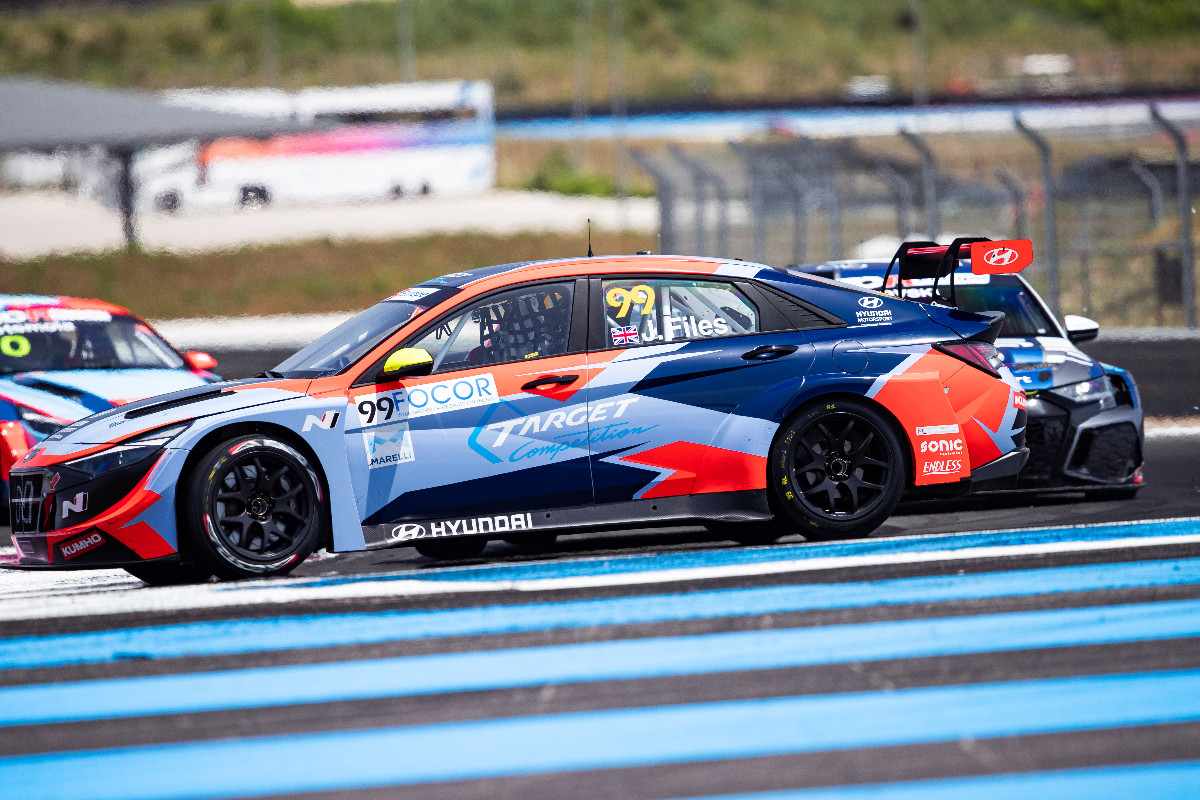 Target Competition's Josh Files was delighted to secure an eighth place finish in a tricky TCR Europe Race 1 at Paul Ricard as his Hyundai Elantra N TCR was inflicted by electric gremlins.
Files qualified third, four tenths of a second behind poleman Tom Coronel, but fell to 11th at the start as a problem arose as he left the line. He was able to regain several places, but was then spoiled by Isidro Callejas and suffered damage for the rest of the race.
Files revealed to TouringCarTimes the extent of his problems, in addition to the 40 kilograms of success ballast he was carrying thanks to his podium at the season opener in Portimão.
"At the moment we don't know, because we found a problem, I had no turbo pressure," Files said when asked what the problem was that caused him to start slowly.
"So we've had a bit of a struggle this weekend with some electric gremlins and we think that's another one, so the guys are working really hard with Hyundai to figure out what's going on. I'm sure they will fix it for tomorrow.
"I'm sure they'll be fine, but, yes, too bad because with the weight I have, to do this performance in qualifying was really incredible, and then being stuffed at the start with an electrical problem didn't is never nice. And from there you're in the back, and I made a few moves to get back to some positions and then got wrecked on the last corner by another car that was making an opportunistic move on the car behind but misjudged him.
The encounter with a plunging Callejas caused "quite a lot" of damage to the underside of Files' car, and "the boot floor was lifted up and it's bent pretty badly" too.
"But in the end we still managed to race well, going forward, eighth is not the best result considering, but considering all the little problems we had, it's not the nor worse."
He will start eighth on the reverse grid for Race 2 on Sunday, and is now third in points behind Comtoyou Racing's Audi RS 3 LMS driver duo Franco Girolami and Coronel, the latter of whom won Race 1 despite smoking tires . Files said overheating tires were not an issue for him in the Hyundai.
"Nope [overheating], we have a good configuration. For us, if we had the power of the Audi, we would destroy them, but we don't. So until we do, we'll be where we are.
"It's too early to even look at this [title battle]. We're just there to try and win races, and then at the end of the year, it all works out.
Coronel said that once he was told on the radio that Files had been slow and therefore wasn't going to fight him for the win, his reaction was "it was a shame because I thought it was going to be difficult."