Michigan State crushes Youngstown State to move to 2-0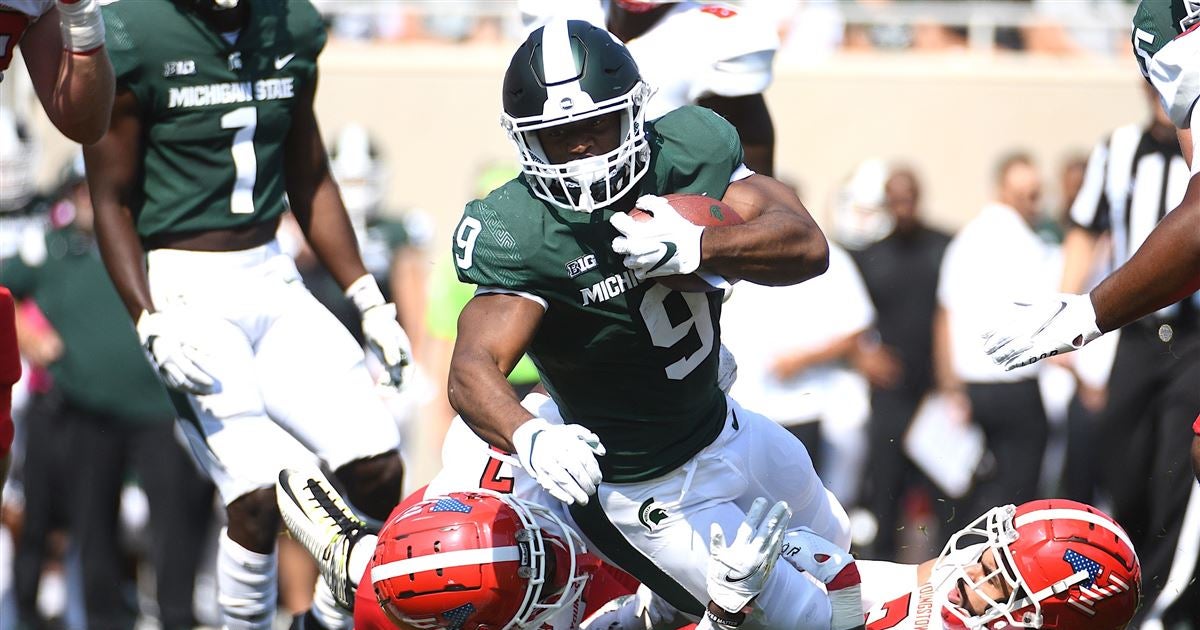 The first full matchday at East Lansing in nearly two years went off without a hitch. Enough fans – 70,103, according to Michigan State – flocked to Spartan Stadium to create the proper atmosphere, and the Spartans put on a show for them as they walked through Youngstown State.
Saturday's game contained some of the ingredients that sometimes lead to slow starts for a team like MSU, with an outclassed, non-FBS opponent in the building and the Spartans emerging from a week filled with high fives and kudos across campus. after an impressive road win at Northwestern.
There was no MSU drowsiness in this one thanks to a series of aggressive calls from the coaching staff that rekindled the energy of the Spartans at first. It all started with a flicker of chips in the first scrum play, as Payton Thorne dumped a 75-yard touchdown to receiver Jayden Reed, and pressure from senior safety Xavier Henderson resulted in a sack in the Penguins' first snap. of the day.
MSU went from there, winning 42-14 to go 2-0 ahead of next week's non-conference showdown in Miami.
The Spartans distanced themselves by scoring five of their seven possessions in the first half, while Youngstown State only entered the table after a touchdown late in the second quarter. Other than a few potential injury issues, they did whatever they needed to do against the overstaffed Penguins. MSU continued their offensive momentum, Thorne shooting 15 for 21 for 280 yards and four touchdowns, a career-high, and controlling the line of scrimmage on both sides of the ball like a Big Ten team should against an FCS foe. And along the way, MSU was able to deepen their bench and get a ton of players from the field reps.
MSU amassed 595 yards of attack, averaging 9 yards per game. Youngstown State finished 304 yards overall, averaging 3.9 yards per game.
The Spartans rushed for 272 yards, with sophomore Jordon Simmons leading with 121 yards on 16 carries. Kenneth Walker III had a light day, rushing seven times for 57 yards. Thorne was once again a weapon on the ground, with three carries for 19 yards and the touchdown that gave MSU a 14-0 lead midway through the first quarter.
It was 21-0 after Thorne hit Reed for an 85-yard touchdown in midfield and 28-0 after Elijah Collins received a 20-yard touchdown on a screen pass from Thorne. Walker got his touchdown with 16 seconds left in the first half to make it 35-7.
The Penguins second and final touchdown was a 26-yard Christian Turner run around a tight left side. Jalen Nailor, who missed a safe touchdown earlier in the game, caught Thorne's last touchdown pass at 16 yards with 4:32 left in the third quarter.
Temple transfer quarterback Anthony Russo took the reins alongside a host of other reserves shortly after that score and guided MSU to the finish line.
Get the latest Michigan football, basketball and recruiting news delivered straight to your inbox. Enter only your email address HERE to sign up for our free Spartans newsletter now!