Nicolai Sylvest and Jan Magnussen share the victories at Jyllandsringen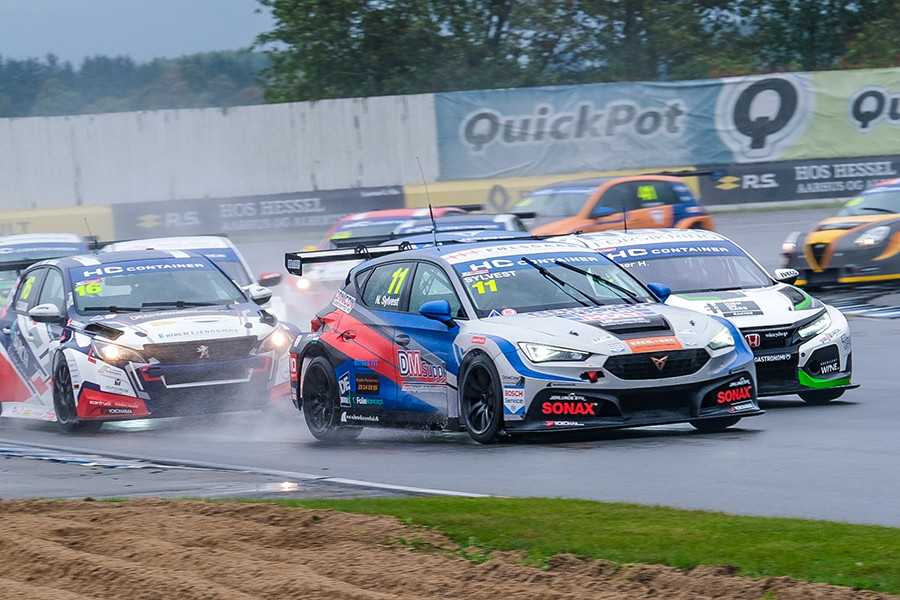 Nicolai Sylvest secured two wins as the TCR Denmark Series hit the track in wet conditions for the final rounds of the 2022 season at Jyllandsringen.
The LM Racing driver took top honors in the first and third races of the weekend, with teammate Jan Magnussen winning the second race as the Cupra duo became the driver to beat in difficult track conditions.
From second on the grid alongside Kasper Jensen, Sylvest got off to a better start than the poleman to strike the front despite Casper Elgaard's best efforts to separate the pair from the second grid line; the Peugeot driver was rather third in front of Magnussen.
Sylvest resisted Jensen in the early stages before slipping away in the lead and he eventually led a 1-2 in front of Magnussen, who edged Elgaard when the Peugeot driver made a mistake and then managed to push his way past Jenson on the last lap.
The Honda rider would complete the podium in third, with Elgaard abandoning the equation when he fled through the gravel while defending Kenn Bach and Michael Carlsen.
The second race started with René Povlsen on pole in his VW, and he faced Jacob Mathiassen and Philip Lindberg in the race for the first corner, where Lindberg ended up spinning in the gravel.
Povlsen was leading ahead of Mathiassen and Magnussen, who had soared from ninth place on the grid, Magnussen then taking second place when Mathiassen and Povlsen clashed – knocking the leader down to sixth.
Magnussen took the lead and stayed ahead until the end despite a late warning from Mathiassen – who had already fallen to fifth place – starting at the first corner.
Michael Markussen – who was forced out of qualifying on Saturday – finished second, with Jensen again taking third place ahead of Sylvest.
Sylvest edged out Magnussen early in race three to take the lead, but that would be a stubborn deal, with a first safety car called when Philip Lindberg was knocked down in the gravel.
Shortly after the restart, Louise Frost then set off to bring the safety car straight back with Sylvest finally able to pull away from Magnussen when the race started and Jensen completing the podium for the third time this weekend.
This third place hat-trick means Jensen retained the lead, 52 points ahead of Markussen with Elgaard slipped to third place, seven points more.
Sylvest and Magnussen are fourth and fifth with gaps of 60 and 62 points, leaving the top five still in contention for the title ahead of the season finale at Padborg Park later this month.