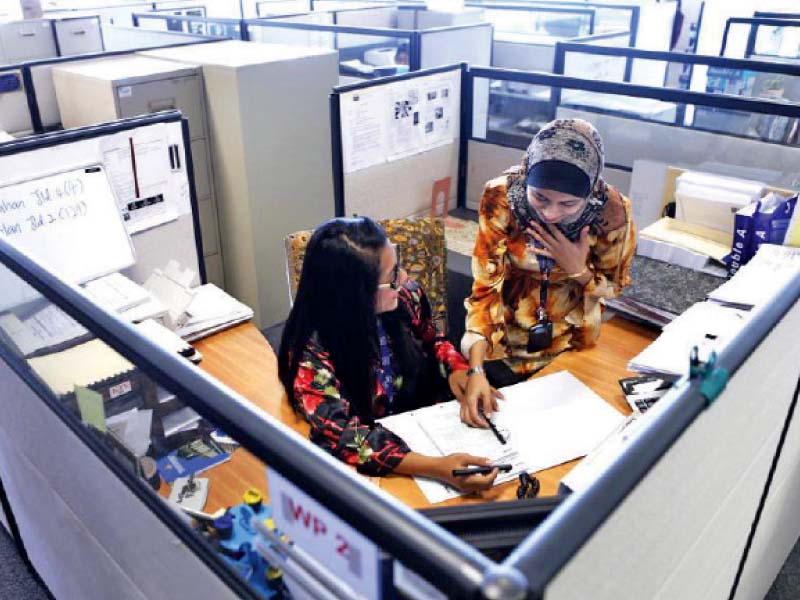 KARACHI:

In August 2017, the State Bank of Pakistan (SBP) introduced a refinancing and credit guarantee program for women entrepreneurs.
The aim was to enable women entrepreneurs to do more and better in their respective areas of small business. The aim was also to encourage more women to become entrepreneurs and to start their own businesses.
At that time, the SBP set the refinancing and credit guarantee limit at 1.5 million rupees for each eligible female entrepreneur. Three years later, in August 2020, the central bank raised the limit to 5 million rupees.
A refinance plan works like this. The central bank encourages commercial banks to lend to a particular segment of borrowers at below-market interest rates because it believes that lending to this sector is necessary for the benefit of the economy.
In a credit guarantee system, commercial banks are assured that their potential losses in granting loans to targeted borrowers will be offset to a large extent by the central bank. In the case of the credit guarantee scheme for women entrepreneurs, the central bank provides 60% risk coverage to the banks that lend to them. This system of refinancing and credit guarantees has its own merits. But much remains to be done to promote the culture of entrepreneurship among women and promote small and medium enterprises (SMEs) led by women.
While providing financial support to women entrepreneurs as part of the Refinancing and Credit Guarantee scheme, banks are currently mainly focusing on so called growth / opportunity entrepreneurs.
The World Bank defines this class of entrepreneurs as those who aspire to create a large, dynamic business that thrives well beyond the reach of their livelihood needs and provides jobs for others. Examples of such women-led businesses include SMEs in branded clothing, footwear, and self-care / beauty products.
Banks also provide financial support to beauty salons, clinics and medical centers run by women, online grocery stores, etc., mainly in big cities like Karachi and Lahore.
Subsistence entrepreneurs
But there is another category of women entrepreneurs – much larger in stature than the one mentioned above – that attracts very little attention from banks in urban areas. They fall into the category that the World Bank describes as necessity / subsistence entrepreneurs.
These entrepreneurs, as the name suggests, are those who engage in entrepreneurial activity to provide a livelihood income for themselves and their close families. In the Korangi, Keamari, North Karachi, New Karachi, Orangi and Surjani neighborhoods of Karachi, thousands of women run microenterprises to support themselves and their families.
They bake bread, bake pickles and jams, sell cooked meals, clean and cut fish, run course centers and mini beauty salons, sew clothes, and even make shoes. Most banks never bother to contact them, assess their financial needs and offer them credit facilities, either individually or through groupings. A few microfinance banks that claim to do so end up lending to women entrepreneurs of growth / opportunity.
In rural Pakistan, microfinance institutions (MFIs) have a long history of meeting the need / livelihood and growth / opportunity categories of women entrepreneurs. And, their loans have undoubtedly made a difference in the lives of rural women. But that said, the potential of such a loan is being exploited a bit slowly. In August last year, the central bank asked all banks participating in the refinancing and credit guarantee program to ensure the processing of women's loan applications within 30 days, which is a laudable gesture. The central bank also asked them to ensure that 20% of the total volume of funds allocated under the refinancing and credit guarantee program are loaned to women in Balochistan. It is also a commendable gesture.
But giving instructions to banks is not enough. Ensuring compliance in the true letter and in the spirit is everything.
Funding trend
According to the SBP, the stock of financing for SMEs increased from Rs422 billion in September 2019 to Rs386 billion in September 2020. – related fiscal and monetary package).
It is hoped that in the future, while reporting data, the SBP will inform the country of the amount loaned to women-led SMEs. Since 2015, the number of female borrowers of all types, including those applying for business loans from banks, has been expected to increase from 2 million in 2015 to 4.6 million in 2020. According to the Pakistan Microfinance Network (PMN) , the number of active women borrowers from microfinance institutions has gradually increased from 2 million in 2015 to 3.8 million in 2019.
But given the dire situation of the SME sector as a whole, it is too much to expect women-led SMEs to be funded generously. Part of the problem is on the demand side.
The demand for public finance from women-led SMEs cannot be expected to increase. Women-owned businesses are often registered in the name of male family members, more commonly in rural areas, but also in large cities.
The writer is an electronics engineer and pursues masters
Posted in The Express Tribune, March 8e, 2021.
As Business on Facebook, to pursue @TribuneBiz on Twitter to stay informed and join the conversation.