Road Trip: North Cascades Scenic Byway to Winthrop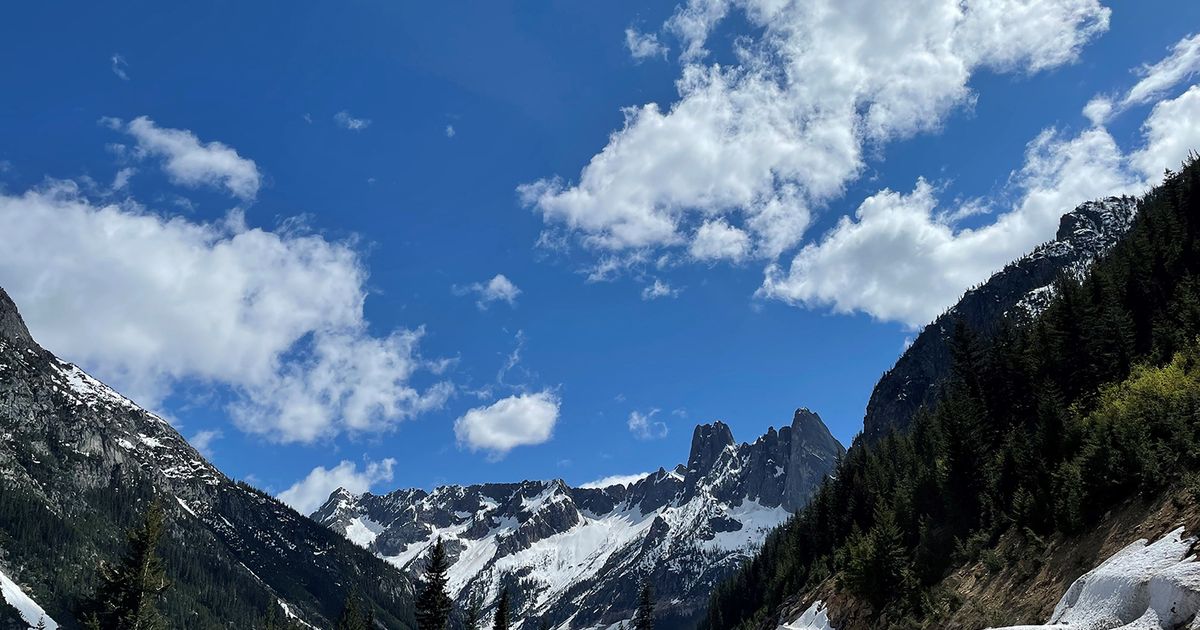 For an upcoming weekend getaway, take the North Cascades Scenic Byway through a mix of towering rocks and rolling hills. The rugged countryside offers a purely Western experience as it weaves its way through small towns and jagged mountains. Begin your journey just off the I-5 freeway in Sedro-Woolley and refuel and grab a sandwich at one of the quaint restaurants in the small logging town.
You will then follow the Skagit River past Concrete and old growth conifer stands at Rockport State Park. As you enter the North Cascades National Park Service Complex, rows of thick evergreens are now blackened toothpicks, after terrible fires raged across the landscape several years ago. However, new green growth blankets the steep valleys and valiant efforts have preserved much of the wilderness and national parks.
At the North Cascades Newhalem Visitor Center, stop by for helpful information displays describing various hikes in the park, including walks under an hour, hikes of one to two hours , half-day and full-day hikes and accessible hikes. An exhibit takes visitors through the mixed forests found on the western and eastern sides of the peaks, ranging from western hemlock to subalpine and back down to lodgepole pine. The well-curated bookstore can help you identify any plants or flowers you might encounter while exploring the local forests, and be sure to snap a photo with the taxidermy grizzly bear.
Hike to the magnificent Gorge Creek Falls or the Gorge Lake and Gorge Dam lookout. An interpretive trail helps explain what you're seeing, but the eagle's eye perspective towering over the waters requires no real explanation.
As you drive, the white-topped mountains begin to play hide-and-seek at every turn. Stop at Diablo Lake Overlook or Ross Lake Overlook to catch a glimpse of the unreal teal color of the lakes, reminiscent of 1950s cars and refrigerators. The secluded, tent-only Colonial Creek South campground is on Diablo Lake , close to hiking on Thunder Creek.
After Diablo Lake comes a stretch of highway open only from May to mid-November, culminating at Washington Pass, the highest point on SR 20. The lookout offers vistas of the Liberty Bell Mountain cutscene, where the distinctive crack follows an old fault line. Observe the arrows, peaks and passes. The nearest campground, Lone Fir, offers spaces for campers.
Unlike the drama of the North Cascade Range, as you descend into the Methow Valley you will notice gentle, scenic mounds where prehistoric flooding left the photogenic mountains rounded and polished.
The unincorporated community of Mazama welcomes visitors looking for the quietest possible Methow stay, with grassy pastures, ranches, a well-stocked general store, and plenty of wide open spaces. The highly anticipated Mazama Pub House has just offered a soft opening in July 2022.
Road trip to Winthrop
The town still retains its Old West storefronts — and many long-time beloved restaurants — but new, young, arts-oriented boutiques are popping up inside the city limits. Those who haven't visited Winthrop for a few years may be surprised at the changes.
For example, Red Umbrella focuses on products and art infused with nature – silhouettes of trees, mountains and plants abound. Get teas, herbal concoctions, mugs, papers, candles, art earrings and more. Other stores to peruse each focus on books, cookware, wrought iron, and homewares.
Enjoy gentle and beautiful walks in and around downtown Winthrop, including the new two-acre Homestream Park near the Winthrop River, which features a teepee, sculptures, winding paths and signage. The nearby 1.3 mile Susie Stephens Trail passes over the scenic Spring Creek Bridge and offers deer sightings.
From downtown, cross the suspension walkway for the easy-going two-mile Sa Teekh Wa Trail that follows the Chewuch River, complete with interpretive panels explaining the prowess of local irrigation engineering. The new figure-eight Meadowlark trail overlooks Winthrop and the Sawtooth/Chelan wilderness.
Visit Winthrop's extremely well-designed Shafer Historical Museum to learn about some of the valley's earliest inhabitants, such as Scottish 'gentleman cowboy' Lord Blythe who wore a dark suit and tie while out in the field. Step into replica log cabins, offices, and shops with antique tools and furniture as if the owners had just moved away. Don't miss the terrifying "tooth puller" used by pioneers in the late 1800s or the fascinating current photo exhibit featuring Seattle's Buffalo Soldiers historical re-enactors.
For more contemporary fun, families might be delighted to hear that the wheels are turning again this summer on weekend walk-in nights at Winthrop's outdoor ice rink, which closed last year. .
For lunch and dinner, order at the counter at newcomer Jupiter from an offbeat menu of salads, bowls, sandwiches and Sri Lankan specialties including smoked lentil fritters, coconut milk-infused dal or jackfruit curry sandwiches. Then dine on the vast patio, in the shade of the trees. Or take your picnic across the street to charming Confluence Park, gazing out over the waters where the Chewuch River and the Methow River meet.
The dinner-only Arrowleaf Bistro has the most upscale options in the area — if you can fit on the reservation list — with farm-to-table dishes such as wild boar meatloaf and pan-roasted chicken with morel sauce. For evening cocktails, Copper Glance's indoor and outdoor seating is almost as good as the restaurant's creative drink list.
For breakfast, The Little Dipper Cafe and Bakery does a hash brown crust quiche in the morning. Stop by anytime for delicious cookies and pastries, and frozen meals of chicken pot pie, mac and cheese, and curry pie to reheat in your Airbnb.
While you're in the area, you can choose your own stay experience. Find your inner cowboy or cowgirl with a hike on a ranch, your inner diva at an upscale resort, or just a laid-back experience in a mountain town in an Airbnb, cabin, or cabin overnight. Or take your pick from RV parks, camping and glamping options. A kitchen is recommended if you are staying more than one night.
Road Trip to Twisp
Further down SR 20, Winthrop's artsy sister Twisp is home to many art and community galleries, studios and other imaginative projects, so much so that it's a popular creative district. Washington State Arts Commission. Stroll the pedestrianized downtown a few blocks to browse boutiques, galleries, and cafes.
Find a reason to stop by the well-stocked health food store, Glover Street Market, one of the best grocery options in the area, with an extensive deli and bulk food section, wine, food organic and specialty and locally grown produce. At Cinnamon Twisp Bakery, pick up a very popular Cinnamon Twisp made with whole wheat flour and hazelnuts or a Hit the Trail cookie made with oats, chocolate chips, nuts and craisins.
Visit TwispWorks, a 6.4-acre campus incorporating artist studios, a native plant garden, and a Fork food truck serving international favorites such as a Korean fried chicken sandwich, falafel salad, or bahn mi sandwich . At the small but comprehensive Natural History Museum, you'll learn how truly unique the clouds of the Methow Valley are due to extremes in elevation, temperature, and a confluence of weather systems from various climates: marine , alpine, desert and arctic.
If you're traveling with kids, see if the affordable waters of the Wagner Memorial Pool are appealing on a typical hot day — a free swim takes place six afternoons a week.
Accommodation options in Twisp aren't as plentiful as in other towns, but include hostels, lodges, RV parks, and Airbnb rentals.
If you've decided you just can't leave Methow after all, settle into Winthrop's Drop Zone Cowork space and enjoy the river views and Wi-Fi – the West hasn't been explored in a day, after all.
Whether you're looking to make an eco-friendly choice with a hybrid or save money with our new car rental deals, Western Washington Toyota Dealers can help you find a new car that fits your lifestyle.