Rodman Ride participants cycle through Foxboro to raise money for children | Local News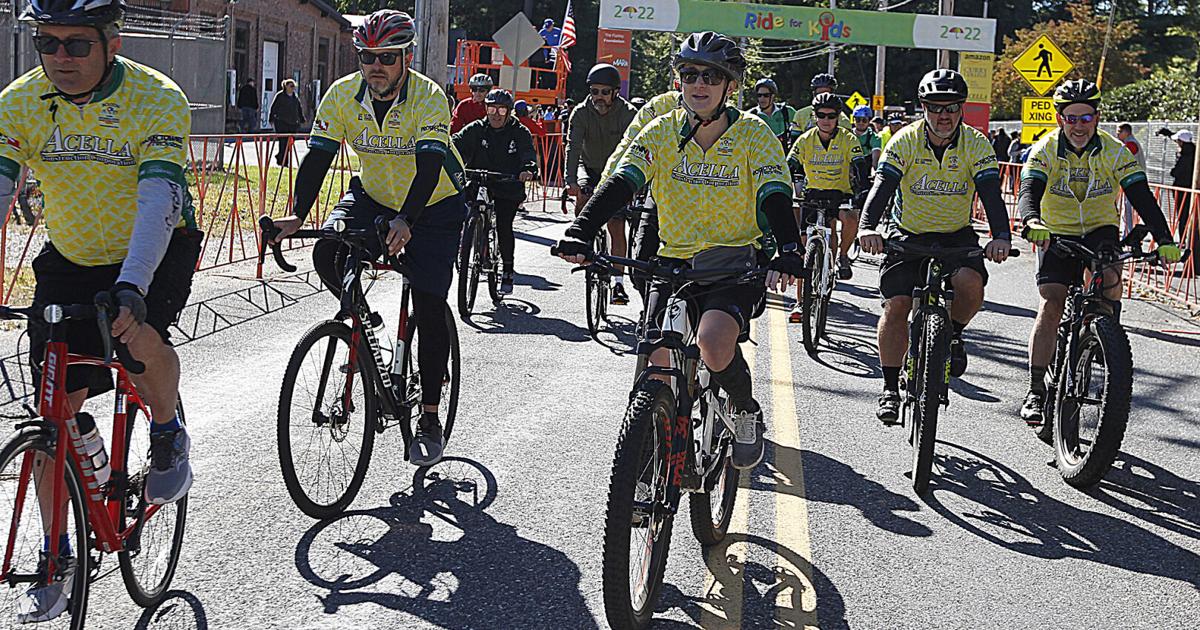 FOXBORO — Area residents went the extra mile this week to raise money for organizations that help children.
Rodman for Kids, an umbrella nonprofit organization that supports more than 40 youth-focused nonprofit partners, hosted its 32nd annual Ride for Kids event on. This year's Ride offered 25 and 50 mile routes, starting and ending at Schneider Electric on Neponset Avenue, as well as a virtual option called "choose your own adventure" where participants could select the activity they they wanted to raise funds and support the cause.
This is a non-competitive bike fundraising tour embraced by a community of people coming together to help bring needed programs and support to underserved children in our area. Ride supporter results positively impact tens of thousands of children each year, having raised $148 million since the Ride's inception.
One of the local organizations profiting from the ride is ConfiKids.
Rachel Calabrese of Foxboro, founder and executive director of non-profit organization ConfiKids (confikids.org) said she "has been doing the Rodman Ride for Kids for about 14 years now. Over 40 different non-profits help all the kids who ride together and raise funds. It's the best event."
Foxboro High School senior Ashley Shailor, 17, who was volunteering at the Confikids tent, said turnout was great.
"I haven't seen so many people in a long time and I think it's amazing how many young people of all ages came out today to ride."
Shailor thinks this event is very important because all these children deserve the opportunity to do what they love and participate in the activities they want to do.
The expenses for the event are fully funded by the Don and Marilyn Rodman Foundation, so 100% of the money raised goes directly to programs, resources and opportunities for children.
This year's Ride sponsors include The Flatley Foundation, Karl Feitelberg, Mary and Joe D'Arrigo, Alku, Ernst & Young, Beacon Pointe, The Verrochi Family, The Connors Family, Kelly Family Foundation, Nash Icon 98.9, Amazon, Acella Construction, Curry College, and more.
"The Ride for Kids is a high point, allowing us to celebrate the tireless work of our partner organizations throughout the year," said Amy Rossman, Executive Director of Rodman for Kids, who has worked with the organization for 17 year.
Rossman said everything they do is rooted in the belief that every child has the right to access the programs, resources and opportunities they need to dream, grow and succeed.
Rossman said when you bring together more than 1,000 riders, volunteers and donors who have all dedicated their time and resources to making a difference for children, the spirit and energy of the day is indescribable.
"I always look forward to hearing one of the young people we impact sing the national anthem and see the first wave of runners go, and we keep that enthusiasm and excitement going until the last runner comes back and crosses over. the finish line," Rossman said.
The event drew attendees from across the state and beyond.
For Woburn's Michael Loria, this is his 10th year of participating and so far he has raised $3,900. He said he hoped to raise another $100 to donate $4,000.
His wife Audrey Loria is executive director of Wildflower for Kids (wildflowerforkids.org), an organization he and his friend Joel Toner from Winchester have raised funds for along the way.
Loria said proceeds from the race will go directly to the organization he rides for and each year, which supports children who have lost a parent.
Toner, who entered for the first time, raised $1,600 for Wildflower for Kids.
"They are doing such a worthwhile job which led me to come to this event to raise funds. I'm a little nervous for the first outing but with Mike's guidance I'm sure everything will be fine," said Toner.
Norwood's Kellyn Martin said this was her eighth year at the event.
Martin works for Ernst & Young, which raises funds for Wounderfund (wonderfundma.org) which works with children involved in the Department of Children and Families and also for Mass Mentoring Partnership. (massmentors.org)
"I'm so excited. Every year it's so awesome to see all of these organizations come together and raise money for amazing causes," Martin said.
It was the first year of participation for Zach Rhein, 17, and his brother Alex Rhein, 15, both students of Newton High School.
Zach said his father, Lawrence Rhein, chairman of the pediatrics department at UMass Memorial Health Care, asked him and his brother to race with him.
"I'm a little nervous because I've never done this before, but I'm very excited for the race," said Zach.
Alex said it was his first time doing 25 miles.
"I haven't really trained for it but I hope to do it. I'm quite nervous but I'm happy to do this and I'll be proud of myself when it's over," he said.