Start of football preparation Week 8: Undefeated Mantas take advantage of the ride | Sun preparations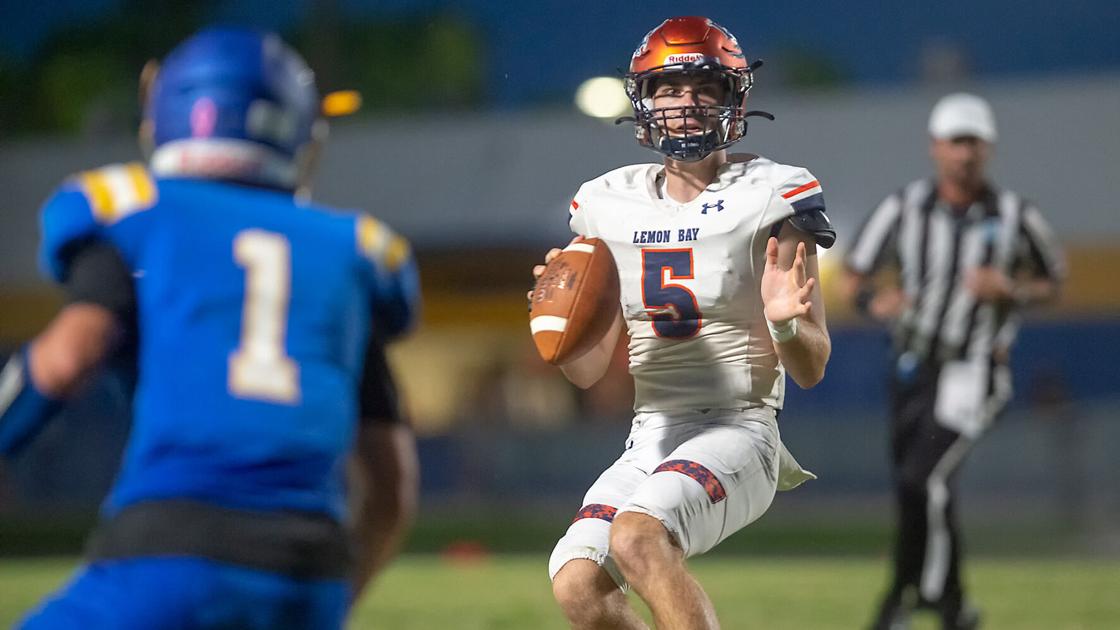 ENGLEWOOD – Trey Rutan had plenty of reasons to be nervous just two months ago.
The oldest had never started a college game at quarterback before. He was playing behind an almost new offensive line.
And if that wasn't enough, expectations had been raised following a historic season for Lemon Bay.
After five games, it was like playing Madden in rookie mode for Rutan and the Mantas (5-0), who outscored their opponents, 206-12.
"The quarterback was a question mark because he's a whole new guy," said Lemon Bay coach Don Southwell. "Offensive line, we've replaced all but one so you don't know. But they have all been a bright spot. We still run it about 60% of the time, but we also take the hits if they're there because we have the players who can do it.
"Kids love to throw the ball, and I think that adds to the excitement. It is a reason to work hard.
So far everything has been fun and games for Rutan, who has a pair of dangerous receivers in Daylan Craft and Aaron Pasick, as well as a rushed three-headed attack in Jason Hogan, Jacob Sekach and Landon Spanninger – from players who have all scored touchdowns this year – behind an offensive line with returning star Everett Baker and two impressive sophomores in Owen Tannehill and Michael Ward.
"Jason is nice to have because he's a relentless runner and you know he's going to get the yards we need," said Rutan. "Then we have Jake Sekach who is going to make people miss and make them stupid. Finally, we have Landon Spanninger, who is a big boy. It's a tank that will go through people.
The offensive explosion was quick as Lemon Bay beat Saint Stephen's Episcopal, 50-6, in the season opener. Since then, the team has put a stopwatch on each of their opponents as Rutan and his fellow first stringers rested for the second half of most matches.
However, it might not be that easy for the high powered Mantas offense this week.
Lake Placid (3-4) is one of the best teams on the schedule this year and has a rushed attack that's hard to stop.
The Green Dragons leaned on rookie Keveun Mason (75 carries for 582 yards and 9 touchdowns) as well as double-threat quarterback Lazabion Brown (11 of 25 passes for 143 yards, 1 touchdown and 41 carries for 175 yards , 2 touchdowns), but have few other players who have produced offensively.
"I thought I had some big shoes to fill because Austin (Andrle) did a great job," Rutan said of replacing the starting quarterback last year. "I think I've done a pretty decent job with it so far. It took me three good games to feel comfortable. At first it was scary to think about how the games were going to play out.
"I am now comfortable and used to speed. I love all the touchdowns we score. It was funny."
Players to watch: Jason Hogan, Landon Spanninger, Trey Rutan, Aaron Pasick, Luke Tannehill, Jacob Sekach, Everett Baker, Gabe Dickerson, Caleb Whitmore, Daylan Craft, Chase Tudor, Dan Romanelli
Last meeting: Lemon Bay won 42-6 on November 14
Predictions: 45-7 Lemon Bay (Vinnie Portell, 26-4), 35-7 Lemon Bay (Patrick Obley, 23-7), 48-6 Lemon Bay (Scott Zucker, 24-6)
Here's what to expect from other games in our area:
Charlotte (3-2) at Cape Coral (2-4), 7 p.m.
The Tarpons have a good chance to bounce back from a tough loss to Lehigh as they travel to play against the Seahawks tonight.
Cape Coral beat East Lee County and Estero, but also lost to Golden Gate, Bonita Springs, Ida Baker and Fort Myers.
There were offensive difficulties for the Seahawks along the way as second-year quarterback Jack Janeway completed 23 of 65 passes (35%) for 251 yards and a single touchdown to eight interceptions in six games while rushing 70 times for 274 yards and five scores.
Aside from Janeway, sophomore Justin Czerniak propelled the offense on the ground – rushing 124 times for 670 yards and five scores – with junior DJ Miranda (36 carries for 268 yards and two touchdowns). Other than those three, however, no player has 100 yards or more of a score.
Facing an experienced and hungry Tarpons defense, things could not be easier at Cape Coral this week.
Players to watch: Nelson Daniels, Connor Trim, Kris McNealy, Keon Jones, Logan James, Brayan Augustin, Cael Newton, Mickel Williams, Avant Harris, Nequis Graham, Tyler Amaral
Last meeting: 35-0 victory for Charlotte on October 19
Predictions: 28-6 Charlotte (Portell), 31-12 Charlotte (Obley), 24-6 Charlotte (Zucker)
Gulf Coast (3-3) at Venice (6-0), 7:30 p.m.
This week, Venice will have a chance for another district victory as the Gulf Coast Sharks (3-3) come up against the Indians.
If the Indians win, they will be one game away – against Riverview at home on Oct. 29 – from playing for the District Championship.
Winning against the Sharks, however, shouldn't be taken for granted.
Gulf Coast defeated Golden Gate, Lakewood Ranch and North Port while taking losses to Naples, Bishop Verot and Palmetto Ridge.
Their offense, led by quarterback Konner Barrett, has scored at least 28 points in five of their six games.
Barrett, a junior, completed 92 of 154 passes for 1,318 yards with eight touchdowns and seven interceptions while rushing 62 times for 151 yards and six other scores.
"They have a very good quarterback and they are well trained," Venice coach John Peacock said of Gulf Coast. "He's definitely their best player. He's a very good player, and when you play against a team with a good quarterback anything can happen.
The Sharks struggled defensively in their three losses, allowing an average of 40 points per game in those clashes.
Although they struggled to reach the opposing quarterback – with just three sacks in six games – the Sharks forced several turnovers, with five interceptions and 10 fumble recoveries. Senior defensive back Jon Ramsey leads this group with four takeaways, including two interceptions and two fumble recoveries.
Although Gulf Coast forced several turnovers, the Indians overcame several turnovers in their victories over Sarasota and Lakewood Ranch – two other opponents in the district – on their way to resounding victories.
Players to watch: Ryan Browne, Omari Hayes, Austin Bray, Jayshon Platt, Alvin Johnson III, Trenton Kintigh, Damon Wilson II, Myles Weston, Elliot Washington, Desavion Cassaway, Martin Ramos, Logan Ballard
Predictions: 56-7 Venice (Portell), 48-6 Venice (Obley), 42-10 Venice (Zucker)
Lehigh (4-1) at North Port (2-5), 7:30 p.m.
The Bobcats come off two strong performances – losing by two points to Gulf Coast, then beating Bayshore, 30-16, on the night of the reunion.
This week, however, won't be easy as they take on the Lightning and five-star running back Richard Young.
Young has already run over 1,000 yards in just five games and was tough to stop in a 14-7 win over Charlotte last week.
A solid defense paired with Young rushing the ball could cause problems for North Port, despite the Bobcats improving.
Players to watch: Jérémie "Juju" Laguerre, Jaylon Fulton, Dylan Almeyda, Sean Silverberg
Last meeting: 35-6 victory for Lehigh on September 27
Predictions: 32-13 Lehigh (Portell), 21-7 Lehigh (Obley), 32-6 Lehigh (Zucker)
DeSoto County (2-3) at Davenport (2-4), 7:30 p.m.
After a hard-to-swallow loss, the Bulldogs will have a chance to return to the winning column against Davenport – a team ranked No.410 in Florida.
Led by a hasty attack on multiple fronts and an eager defense of trial and error, DeSoto County has been competitive in almost every game.
A win tonight would bring the team down to 0.500 and give them a chance to win a season a year after going 0-10.
Players to watch: Nazir Gilchrist, Gershon Galloway, Andy Garibay, Lildreco Thompkins, Jay Pelham, Michael Russ, Blas Cervantes
Predictions: 27-14 DeSoto County (Portell), 27-14 DeSoto County (Obley), 14-0 DeSoto County (Zucker)