Thed Björk "really happy" with the podium in Aragon despite difficulties in a straight line »TouringCars.Net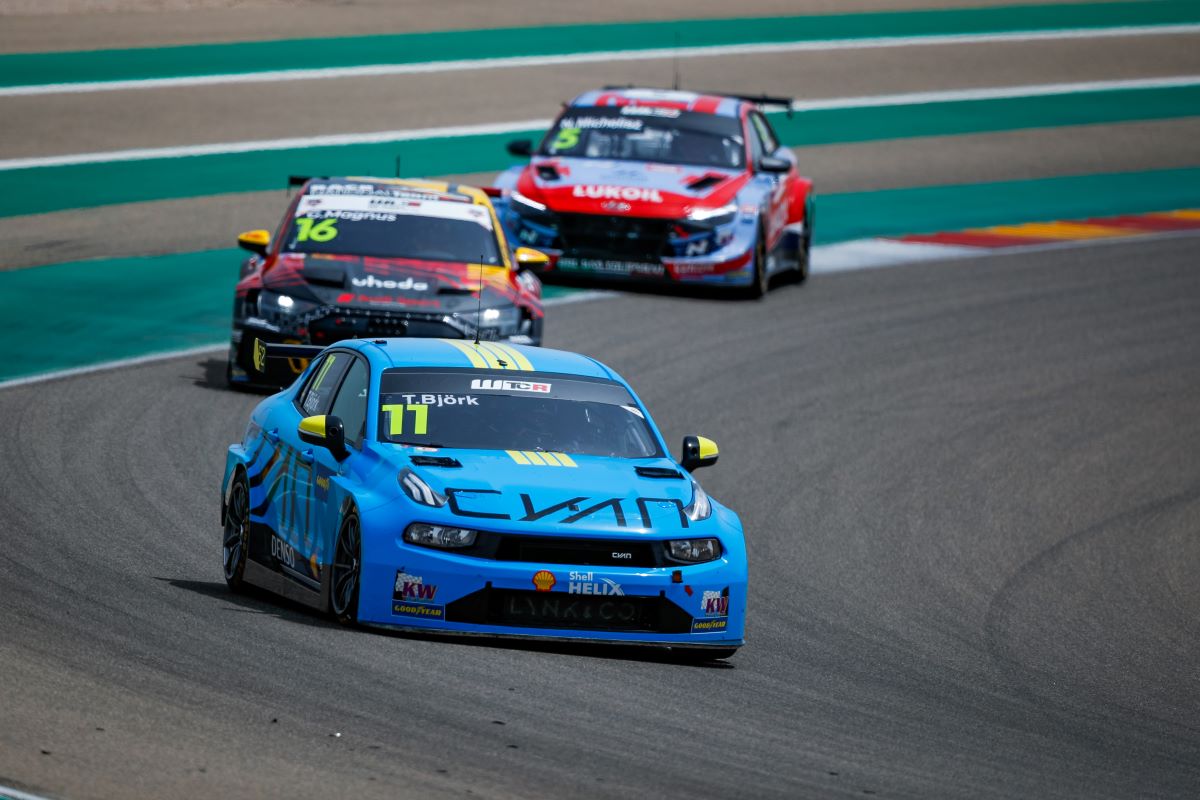 For much of the season, balance of performance has been a topic of discussion in the FIA ​​World Touring Car Cup, and as a result, so too has Cyan Racing's lack of straight-line speed.
While the overall pace of their Lynk & Co 03 TCR quartet has not been severely hampered, it does seem to make life difficult for the team in driving fights.
Speaking after the weekend's opening race at Motorland Aragon in Spain, Cyan's Thed Björk reiterated the point after being unable to push back the cars surrounding him.
– Publicity –
"It was a very difficult race for us," he said. "As you can see we fought so hard but we can't get past anyone – we're playing a defensive game.
"We can be quick on a lap, as you saw in qualifying. But in the race it's so hard because the others are faster than us in a straight line. I went from eighth to tenth and there was nothing I could do.
However, it was not all gloomy for the driver and the Swedish team. As Björk mentioned, his blistering pace in qualifying meant he would start from the front row for Sunday's main race.
However, after the difficulties of Race One, Björk felt that he and his engineers would have to rethink their settings to be able to compete with pole-sitter Frédéric Vervisch.
"… after the first race, I thought because Fred [Vervisch] passed me I was not in a good fight [shape]," he said.
"I have to sort that out for the second race so we made a lot of changes, even on the grid after the warm-up lap.
"I was sitting there at the start and had a good opportunity, then my next thought was yes, but if Fred makes a good start… it will be clean anyway and that's what he did, then good work.
"Then I followed and had a lot of pressure but like you said it was like that the whole race so it wasn't easy but super fun.
"Finishing the P2 race, getting back on the podium is great, great good, and I'm really happy that the car is performing so well.
"We struggled a bit with the pace of the race, but a fantastic feeling to put him in second – I'm really happy!
Overall, it was a positive weekend for Cyan Racing, as Björk's teammate and defending WTCR champion Yann Ehrlacher was able to climb to second in the 2021 standings – just eight points behind leader Jean-Karl Vernay.
With Yvan Muller also ranked third, the team is well positioned for a solid end to the season.