Vols chose to 'ride the wave' with a formation of four guards in South Carolina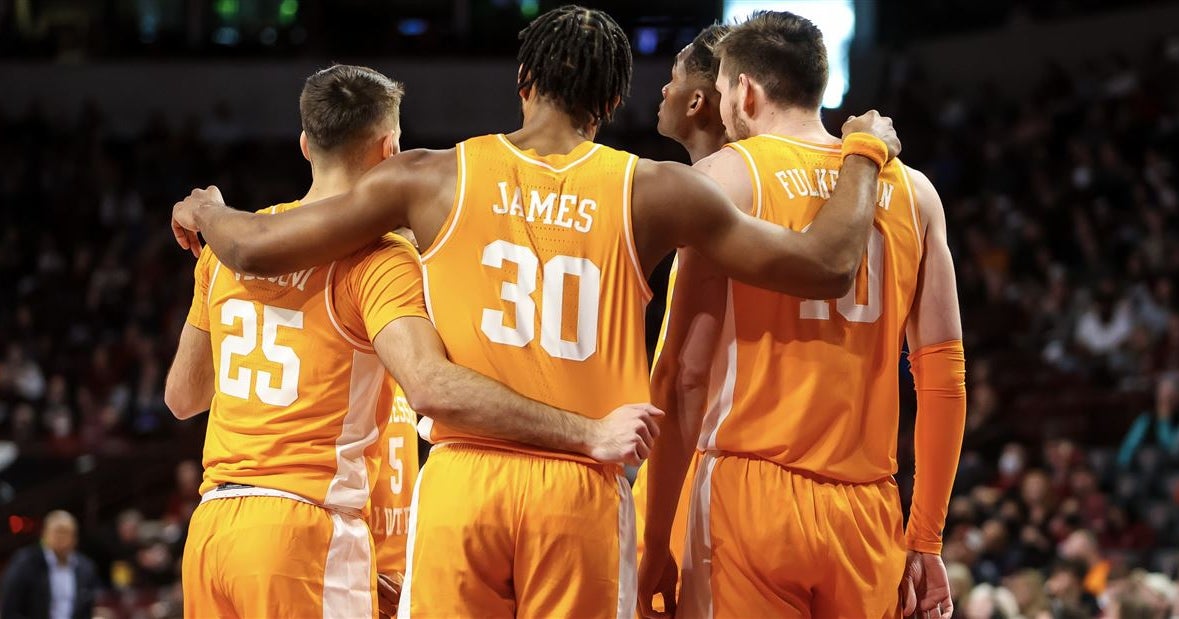 Olivier Nkamhoua had played some of his best basketball for Tennessee's No. 22.
The junior forward had 15 points and seven rebounds in Tuesday's win over Texas A&M in Knoxville, after nine points and eight boards at No. 25 Texas three days earlier.
He had seven points and five boards in 17 minutes at South Carolina on Saturday, before exiting the 81-57 ​​second-half victory with what appeared to be a left ankle injury.
"An ankle injury, that's what I was told," said the head coach Rick Barnes said at his post-match press conference. " He is not sure. Maybe they watched it on tape. It's just his ankle. I think he looked good…I heard he twisted his ankle a bit.
Tennessee (16-6, 7-3 SEC) is back on the road at Mississippi State (14-8, 5-4) Wednesday (9 p.m. EST; TV: ESPN2).
But even if the Vols have to do without him, they have options thanks to the depth in the backcourt.
Nkamhoua scored on a spin drive to the edge early in the second half on Saturday, stepping out of the glass with 16:04 left to give Tennessee a 40-37 lead. It was the first bucket in what would be a game-changing 10-0 run, as the Vols went from one to 21 over the next seven minutes.
A formation of four guards Kennedy Chandler, Zakai Zeigler, Santiago Vescovi and Josiah Jordan James did most of the work.
James scored a career-high 20 points, while Zeigler matched a career-high by scoring his 18 points in the second half, scoring 10 straight for Tennessee at one point. Chandler had a double-double with 11 points and 10 assists. Vescovi quietly scored 13 points in 23 minutes.
"I thought the lineup was good," Barnes said. "All year it's been good programming for us, it really has been."
Now the question is to what extent to use it in the future.
South Carolina had 22 points in the paint compared to just 14 for Tennessee on Saturday, but Barnes wasn't bothered by that number — not after his team's offense produced 171 points in its last two games. .
"For the moment, he said, I don't worry about anything, you know? If you told me we can score 81 points every night, I'd take it any way I could. Either way, we could get it.
Barnes said he started making changes Saturday afternoon at Columbia, only to be pushed away by the sixth-year senior center. John Fulkerson. Barnes wanted the offense to start going upside down. Fulkerson said thank you, but no thank you.
"John said coach, I'd rather stay in our flow, let me move and roam," Barnes said. "They love being there. It sets the stage when you go down, I think sometimes, myself included, I think we have to play with our backs to the basket because I've been in the game a long time. It was like that before. »
But that's not how it should be.
"There's a lot of different ways to attack," Barnes said, "whether you catch him out of the way, four or five feet. Olivier has done it many times. That doesn't necessarily mean he must be a hard knockback and jump hook, or a rollover shot.

"As long as we're going to attack, have an attacking mindset, try to get him into the high percentage zone, hey, we'll take him any way we can."
Tennessee shot 42.9% from the field against South Carolina, after shooting 50.9% against A&M on Tuesday. The Vols hit 14 threes against the Gamecocks, the highest total in a game since hitting 14 against Presbyterian in November. They started the season with 17, a new single-game program record, against UT Martin on November 9.
It's easy to look past a lack of points in the paint when four ground guards score so much from the perimeter.
"Obviously I wish we could shoot like this every night," Barnes said. "If not, we'll have to figure out how to make the spikes you're talking about, inside. From game to game, that's where those adjustments come in. Depending on how the game is going and what's going on, you need to be able to adjust.
"I think we have the ability to do that, but sometimes you just have to ride the wave with these guys. Tonight you could tell, as a group, that they were really locked in with each other.