Watch Now: Witches of Sterling ride to celebrate Halloween, community | Local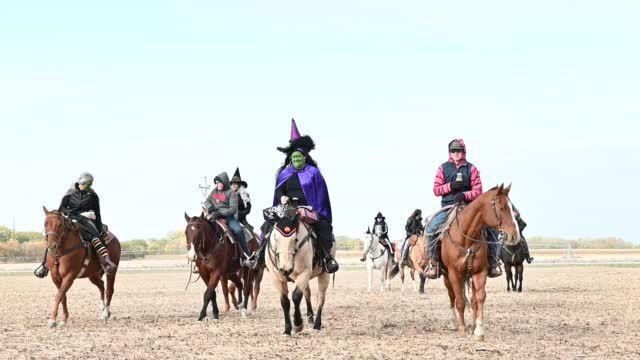 This 1908 postcard view of the then nearly new Temple Building at the southeast corner of 12th and R streets shows the building as it is today.
Paranormal guru Dale Bacon, at a 2001 talk at the Nebraska History Museum, told the story of a construction worker crash and many believe he haunts the theater. But Bacon's theory was that the energy of performing artists may be the source of the haunting.
A theater major very active in the theater in 1987, Bacon said, was rehearsing a tap dance routine when, on the balcony, he heard someone applaud his performance. He couldn't find the person on the balcony, then started to hear the sound of his tap dance routine on stage. However, there was no one around. A voice asked him to try once more, and the theater major performed it perfectly. At the end, he heard someone applaud again.
Some say Dallas Williams, head of the theater department at UNL until 1971, was the ghost because his favorite spot was right from the sound booth on the balcony. Others in the building in the 1930s and 1940s reported dancing lights and flames.
Julie Hagemeier, general manager of the theater department, said in a 2000 Daily Nebraskan article that a girl haunts the prop attic. When a show crew took down various dolls in the prop store to make the type of prop they needed, they left the attic in a mess. "When the team returned to the locked attic… someone had lined up the parts of the dolls and placed the corresponding heads with the bodies."