Woodland Park couple coordinate commemorative bike ride for emergency medical workers who died as they cross the Rockies | Pikes Peak Courier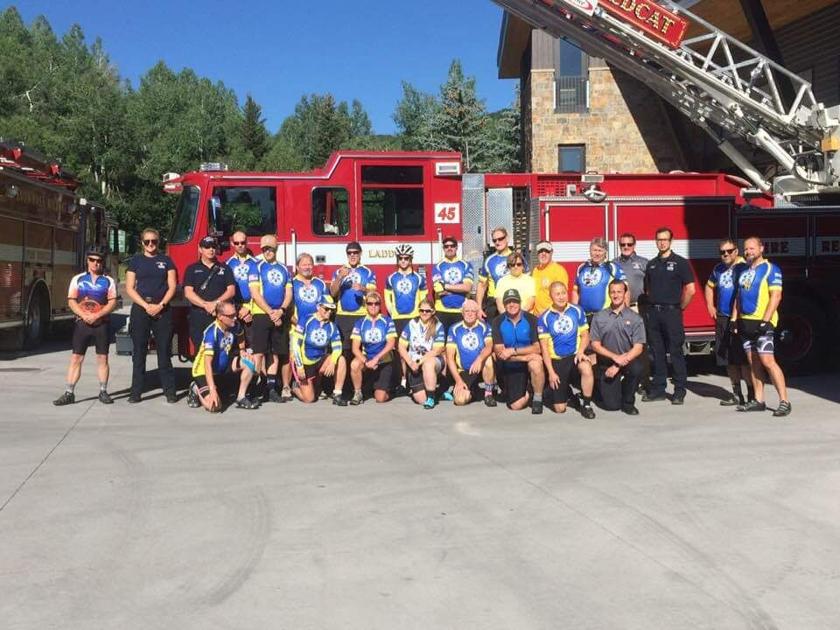 Editor's Note: This is the latest installment in an ongoing EMS series in Teller, Park and Park counties.
The National EMS Memorial Bike Ride began on September 20 at five locations across the country. A five-day event, the ride honors those who died while working in the emergency services.
Steve and Becky Berry of Woodland Park coordinated the ride through the Colorado Rockies that ends Sept. 25 at the Red Rocks Amphitheater near the town of Morrison, where runners hold a memorial service. Colorado runners are known as the Muddy Angels.
Steve Berry, a paramedic from Southwest Teller County EMS, joined the national race in 2006 on the East Coast after the sudden death of his EMS partner. Both were working in Colorado Springs at the time of her partner's death. "I went through a pretty difficult grieving process with this," he said.
At the suggestion of a friend, Berry started cycling and joined the race that started in Boston. "I trained and I did it!" he said. "The journey was an incredible healing process. Runners become lifelong friends.
Becky Berry also felt a sense of serenity on the memorial ride through the Rockies two years ago, when she rode in honor of an EMT who was killed in the line of duty. "The ride was very emotional for me," said Berry, who is a paramedic with SWTCEMS and emergency room technician at UCHealth Pikes Peak Regional Hospital.
The journey fosters camaraderie through grief as well as a collective dedication to continuing the important work being done by emergency responders around the world.
"It sounds like a sad race, but it isn't," said Steve Berry. "It's a celebration of the lives of these people. Some just ride for their colleagues.
The rides begin with introductions and stories of the loss of friends, partners and relatives. This year's participants come from Colorado, Arizona, Connecticut and Pennsylvania.
To date in 2021, 150 EMS and firefighters have died in the line of duty. " This is another thing ; I don't think people realize EMS can be dangerous work, "he said.
Along the way, runners are treated like royalty, with barbecues, catered lunches or home cooked meals at local fire and emergency stations. "We will have five different air medical helicopters doing overflights en route," Steve said.
In towns where a first responder has died in the line of duty, runners stop for a small ceremony. "We don't forget those sacrifices," Steve said. "It's not just about riding a bike, as we go along we try to deal with the loss of others."
In addition to recognizing accidents and other traumatic events that have killed firefighters and EMS workers, the ride includes a mental health component. "We have more EMS people committing suicide now," Steve said. "The COVID pandemic has placed a heavy burden on emergency healthcare workers, both physically and mentally – all the more reason to raise awareness about taking care of ourselves. "
The Muddy Angels, each with an identity tag for the one who died, took off on September 20 from Snowmass. "Day one, we give them a false sense of security, from Snowmass to Glenwood," Becky said. "It's 45 miles, all downhill."
From that point on, it's only brutal in some places, like the climb up the Loveland Pass, one of the few actual roads on the memorial route. "90% of the ride is on paved trails," Steve said. "Colorado is amazing."
From Glenwood Springs, runners stop at Vail, Frisco, Idaho Springs and Morrison.
Southwest Teller County EMS, Ute Pass Regional Ambulance District, American Medical Response, UCHealth LifeLine Air Medical, and Flight For Life support the Muddy Angels on the EMS journey through Colorado.